News & Features
How Group Coaching Can Skyrocket Your Writing Skills
Having a writing mentor for the first time in my life has completely changed how I approach my writing. Let me tell you why.
Hi, I'm Char from The Plottery! You might know me from my writing coaching programs; I've been a mentor for several dozen writers this year and watched them all make significant progress on their work.
2022 has been a deeply satisfying journey, but I only TRULY understood how my clients felt when they said how much I helped them once I got my own writing mentor.
I started my Creative Writing MA in September, and my program gave me my very own mentor to work with on my project – El Lam (you might know them from their latest book Goldilocks). It's been an eye-opening experience and one I cannot praise enough. If I could have a coach for every project I take on for the rest of my life, I would.
I've gained a massive amount of confidence as a coach since then because the value you get from another experienced person's eyes on your project is undeniable. And now, I understand how my clients feel when they say things like this:
Suffice it to say I can now take these comments to heart a lot easier because I know what coaching has done for me. I went from being totally confused and insecure about my idea, and after having just three sessions with my mentor, I immediately felt like that brain fog lifted. I could visualize the very best version of my book right in front of me.
This is why I encourage you to consider the new group coaching program I'm doing in partnership with Novlr!
The Complete Novel Coach is where I'll teach you everything you need to know in terms of story structure and the technical side of things, but I'm going to give you something beyond that, which you can't find in a simple Google search – a personalized approach to your project.
No theory books or classes can do what coaching can, and I can say this now with complete confidence.
The Complete Novel Coach gives you all the materials and theory, but with the personal touch of your own coach. This means you get support for your specific project, and not for a generalized idea that you may or may not be able to apply to your novel. Let's face it, we've all tried to read a craft theory book once in our lifetimes, but it doesn't come close to getting help from an actual human being with experience in the matter.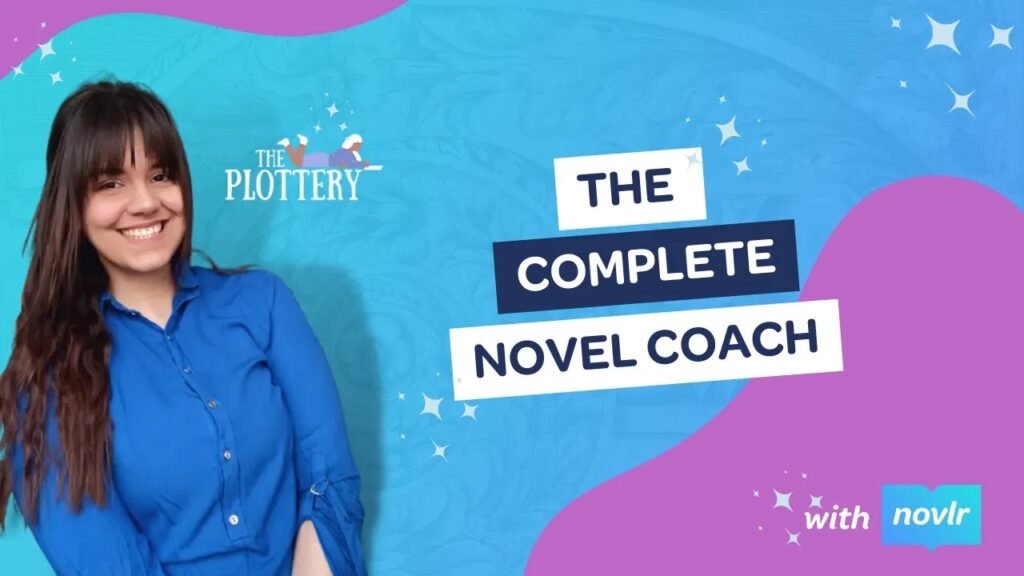 A little bit more about the program…
This is a 6-month coaching program, and the aim of it is to elevate your writing skills and complete the first draft of your novel.
Moreover, it's a challenge.
I'll be totally honest, completing an entire book draft is difficult. But I've watched my clients make strides and pushed them as far as I could. For comparison, my personal coaching program lasts 3-4 months, and I still get clients completing the majority, if not their full drafts of their projects in that time frame.
While The Complete Novel Coach is spaced out a little more to give you more breathing space, there is more than enough reason to say that you'll be holding a finished draft of your novel in your hands only six months from now!
So if you're ready to challenge yourself and jump into this new adventure, this program is made for you.
What does it look like?
We'll take the first month to lock in the foundations of your idea – we'll find your premise, compose your book blurb, craft your characters, and place them in your story world.
The second month is all about plotting and nailing down that first chapter. This will probably be the most demanding part of the program, but also the one that should set you off in the right direction. Once you nail down your plot beats, you'll be ready to rock ahead with your writing.
Months 3-6 are focused heavily on writing. You'll be able to set up your writing goals straight inside Novlr (that's right, you get a Novlr Pro subscription for the duration of this program, and existing Novlr Pro subscribers get 10% off!).
During our cohort sessions, we'll take a deeper look into how each act of your story should work. We'll cover topics from writing dialogue, different narrative positions and styles, description, avoiding writer's block, self-editing, and your next steps to publishing.
I've always placed a massive emphasis on character creation, so this will be at the very heart of the program. Beyond just learning about story structure, you'll learn how to create meaningful, character-driven stories that will make your readers empathize with your characters and be unable to put your book down.
If you're ready to make this happen, join our waitlist to grab the next open spots. I can't wait to work with you!
Tags