Novlr Authors
Novlr and I Have Grown Together
Back when Novlr was in its infancy, I was a brand-new freelancer trying to work out what to do with my life.
As a professional historian, I was getting burned out by an underfunded heritage industry. Like many others in the competitive jobs market, I was forced to create my own opportunities.
Like any job, you need the right tools to be the best you can be. Novlr always pushes me to be the best.

Pamela Koehne-Drube
Novlr came into my life just as I reached that crossroads. I knew I had to use the skills that I'd learned and apply them to something new. I had to ask myself what it was about my former career that had brought me the most joy? Was it the historical objects? The education aspect? The fact that I got to learn continually and tell stories? It should come as no surprise to you that it was the latter.
My years working in heritage perfectly set me up to change my career trajectory completely, and Novlr helped me facilitate that. I began to focus on research and began writing historical blog posts for online magazines and local businesses.
A new path with Novlr
From the get-go, I knew that Novlr and I were a match made in heaven. The clean, minimalist UI is perfect to work with, and I can keep both my notes and my writing in the same place. Being browser-based means that I can write and make notes from any computer running any operating system, and no matter what device I use, I'll have all my work available to me at any time. The offline function also ensures I never lose a thing and I can continue my work even in wi-fi dead zones.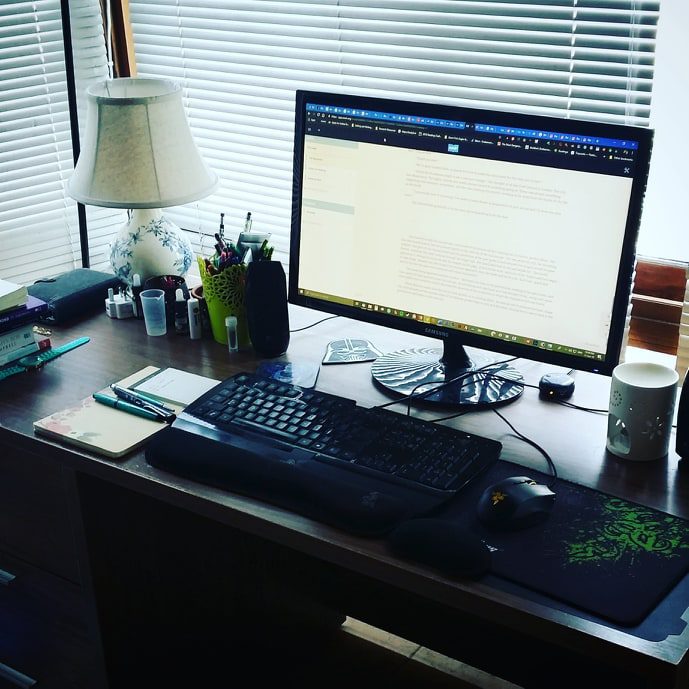 I've seen Novlr grow and develop in real time since I first started using it. The team's engagement with the community means that they only work on things that their users want and need. This avoids the bloat that is a problem with so many other writing software solutions on the market. Novlr has grown and improved alongside my career and has supported me the whole way. And I mean that quite literally.
Improving together
With every word count milestone I reach, Novlr cheers me on. The little popups make me feel like I'm accomplishing something, no matter how I feel that day. One of the most challenging things about doing a creative job is having to be constantly in the right headspace, and Novlr supports me, even when I'm not feeling it. On some days just that little bit of encouragement can be the push that I need.
With the ability to set my own targets, re-order my words with a simple drag and drop feature, a proofreader that can be toggled on and off, and now Tim Clare's excellent Couch to 80k Writing Bootcamp available for free on the platform, I'm never short of inspiration! There is always something that I can draw on to get that little creative push that I need.
A fan for life
With Novlr continually improving, I'm a fan for life. There is no other writing program for me. My freelance career that started off so small has blossomed into something far bigger. I have Novlr to thank for that. A few years down the line and I'm a professional ghostwriter and editor. I've worked on non-fiction, historical fiction, children's books, and even scripted educational games. Last year, a non-fiction book I worked on was even nominated for the Financial Times Book of the Year, and Novlr was there, supporting me every step of the way. Like any job, you need the right tools to be the best you can be. Novlr always pushes me to be the best.
---
Pamela is a freelance ghostwriter, editor, and professional historian. She writes non-fiction and fiction works for both commercial publishers and self-published writers, and has published short stories of her own under her pen name. She is currently writing her first full-length novel.
If, like Pamela, you have written, or are writing, something you're proud of on Novlr, we'd love to hear about it.

We're keen to share your stories with the rest of the community, so get in touch with our Author Support, Clare, using the blue chat bubble in the bottom right or email us at [email protected].
Tags