News & Features
Novlr's New Look: A Writing Tool Designed For You
Novlr, our novel writing software, is growing and changing – it has evolved a lot in the five years since we began and we felt the time was right to take another look at the design of Novlr as a brand and as an app.
Novlr exists to build you the best writing tools. Design is an enormous part of that, so we've begun the process of refreshing what Novlr looks, feels and acts like. The new logo and website are just the start.
Novlr was born out of a need for better novel writing software. It was clear there was no tool, no software, no platform that had been designed with a novelist in mind, taking into account the technologies that then existed. That was frustrating to us as writers. That frustration is where design comes in.
Whether it's what something looks like, or how someone uses something, design is the process of tackling a need, filling a gap, creating something that serves a function as best as it can. We really felt no one had taken the time to look at what writers needed and give them the best possible writing environment.
Do we think we've got there yet? Not even close. Do we think we're leading the way in approaching novel writing with a design-led philosophy? Yes!
Function and design in novel writing
Design isn't just the colour, or the shape of our logo, or the font we use. We try to think carefully about each element of Novlr and why it's there and how it should work. We look at what you actually need to do, and therefore what you need to see, when you need to see it and how we can make that process easier, less effort, and more pleasurable. To make something functional, it needs to be well designed. Good design is something you as a user should never think about, but something you use over and over again. Writers – you – will spend 1000s of hours writing, so the tools you use, and the way they work matters.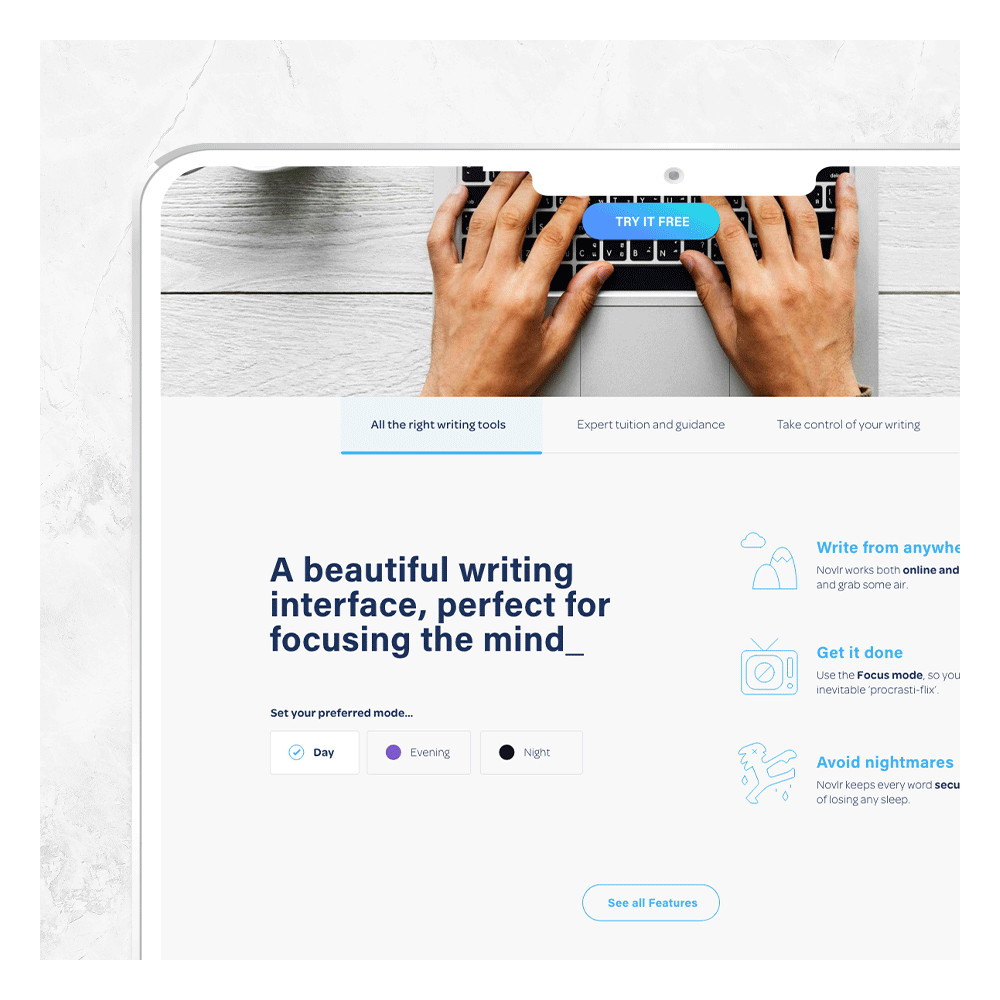 Our progress so far
We invested a lot of time and effort in the design of Novlr when we started out. We're really proud of how the Novlr web app looks, and how many features we have. However, we're a really small team and haven't had the resources to invest as much in the visual/user experience and interface design of some of the features we've added over the last few crazy years of building this amazing product and community. So, we're pleased to be giving Novlr a refresh, but this is the beginning – as we continue to grow, we'll be keeping design at the heart of our decisions. Here's a bit more info on our ethos as an organisation.
Next steps
The next stage will be the redesign of the web app itself and the launch of our mobile app – which will most likely happen at the same time. Novlr will be cleaner, more intuitive and more pleasant to use.
We will keep making Novlr better. We set out to make sure Novlr keeps improving and we intend to keep that promise. If you haven't tried it, give Novlr a try now.
Tags