News & Features
Progress Update #3
2023 is in full swing, and we're already off to a running start here at Novlr HQ. There are now over 118,237 novels live in Novlr, and almost 571,000,000 words written and counting!
Here's what's new since our last progress update:
✨ New features ✨
Coaching
We've partnered with The Plottery this year to bring you The Complete Novel Coach! Designed to open up the novel coaching experience to a wider group of writers, we want to get you on the path to reaching your writing goals this year, combining group coaching and one-on-one check-ins with a professional writing coach. The first cohort starts on January 21st, or you can join the waitlist to be notified of future enrolment dates.

Lifetime subscriptions
We put lifetime subscription purchases live. For a single price of $499 (the equivalent of just under three years of the Novlr Pro annual subscription cost), you get lifetime access to Novlr Pro, including all future updates and improvements.
Publish to ebook
We released the first iteration of our new publish-to-ebook functionality. You can now publish to .epub directly from your novel homepage and access and delete all previously published versions of your ebook from the Publishing page. We will also add cover upload and metadata editing over the next few weeks.

Focus mode
We introduced a "proactive focus" UI. When you type, all headers will fade out automatically, and reappear on click. For full focus, you can now close the chapter sidebar and put your writing screen into full-screen mode to see nothing but your words.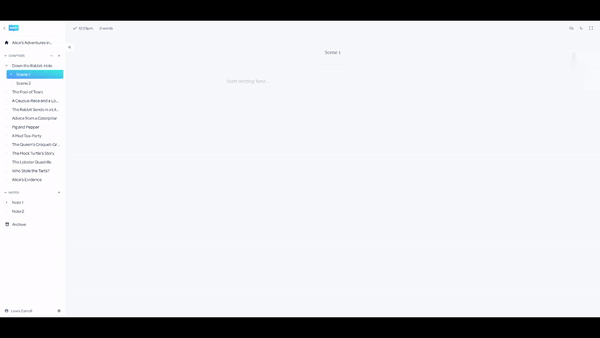 Split chapter
We have reintroduced the split chapter function. To split your chapters, select your text and click on the split icon in the formatting bar. This will create a new chapter with the text from your selection onwards. The first sentence or line of the new chapter will be your new chapter's title to make it easy to identify for reordering.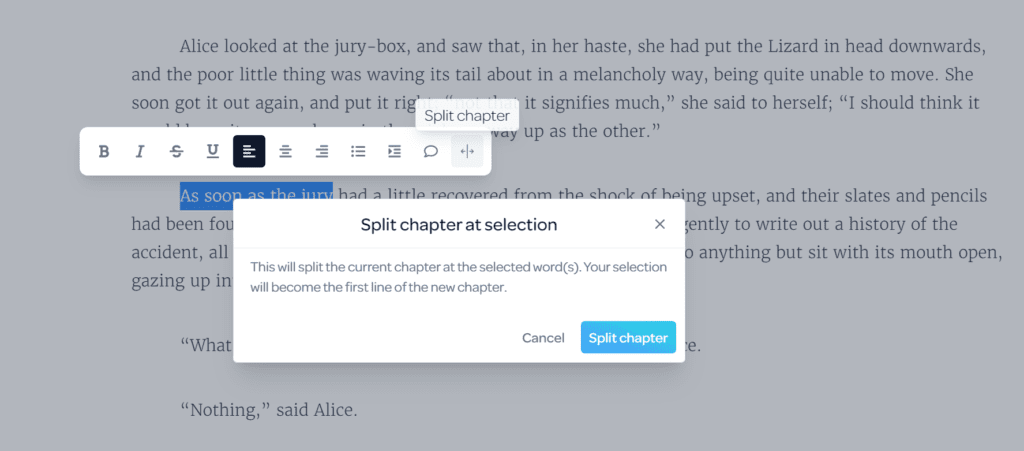 Switchable word count tracking
The switchable word count toggle is back! You can select which word count stats you want to track from a handy dropdown — choose between the chapter word count, your total words written today, and the total word count for your project.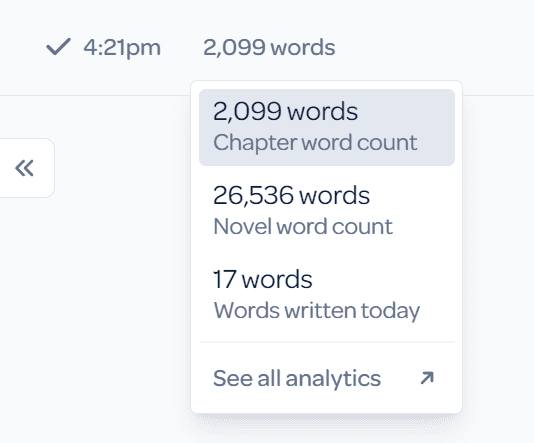 ✨ Feature improvements ✨
Saving and versions
We upgraded our system to provide more reliable saving and version management to reduce duplicate commits or timeouts.
Better performance
We have vastly improved app performance by avoiding unnecessary re-renders on each keystroke.
✨ Bug fixing ✨
Offline issues and toast popups
Some users reported sporadic chapter reordering, uncontrolled toast nudges, and multiple offline popups. You should now be able to drop offline, reorder chapters, come back online with no unexpected changes, and notifications will only show when appropriate.
If you do still experience this error, try refreshing your page. While our updates roll out seamlessly, if you haven't refreshed your page at all since the update went live, you might still be accessing an older version of Novlr.
Fullscreen button on Safari
Some users reported that the fullscreen button did not work on Safari. While this issue is fixed, it will still require some monitoring due to how Safari functions.
The fullscreen button is hidden on mobile. To write in full screen on mobile, you will need to add Novlr as an app to your device's home screen (see this helpdesk article for more info).
Chapter menus hidden
Some users had the chapter menu hidden behind the writing screen when clicking on the three dots next to the chapter title. This issue was isolated to Safari and Firefox users and has now been fixed. You will now be able to archive and export from the chapter menu as expected.
Exporting nested chapters
An issue that prevented nested chapters from being exported has now been fixed. The export modal would simply hang and show an infinite loading icon on the export button. Nested chapters can now be exported with no issue.
Sharing lag
Some users reported that the sharing modal was very slow to respond and that they couldn't toggle multiple chapters on for sharing. We adjusted this so the UI doesn't have to wait for the server to save before updating.
Timezone issues
Analytics and streaks were incorrect for some users due to their timezone. This error has now been resolved, and all analytics and streaks moving forward will update at the correct local time (midnight on your device's set time).
Imported titles
Chapter titles including the "&" symbol were converting the symbol to "&" on import. All titles including a symbol will now import correctly.
✨ UI improvements ✨
Better explanations for versions
With multiple types of versions being introduced through our save improvements, we have improved the way we show these in your version history. You'll find text that explains if a version is an alternate to a simultaneous save, if it's an offline version, if it is an imported version, or if it was created with a chapter split.

Comment totals
You will now see how many comments are contained in your document via a small number that appears next to the comment icon in the header bar.
Improved UI text
We fixed some minor spelling errors and clarified some of our modal text in our notifications panel, our pricing grid, and success nudges.
Import novel from the dashboard
You no longer have to go to the Writing tab to import a new novel. For ease of use, we have added an import button directly to the dashboard so you can import immediately. We have also greyed out the import button when no document is selected.
✨ Coming soon ✨
Cover image support for published ebooks and the project homepage
Additional import and export formats
Re-integrating the free Tim Clare Couch to 80k Creative Writing Bootcamp
Releasing more free and paid courses
Sunsetting our legacy app