News & Features
Progress Update #5
2023 has been a busy year for us already at Novlr HQ. How is it only March??
We released our latest update on March 20th, and it's been so heartening to see how much you've all loved it. We've enjoyed every moment of the design process, and the feedback so far has been wonderful. We're now in the perfect position to keep building and developing to bring you one step closer to achieving your writing goals.
While it's impossible to put every detail of the design refresh into a single post, hopefully the below will give you an idea of the work we've done. But if you really want to explore the changes, now is the perfect time to log in and look for yourself!
A design refresh
As many of you may be familiar, our legacy app had a very specific look and feel. We loved our branding, but it didn't feel quite right for the more modern feel of the app you now all know and love. With that in mind, we took inspiration from the brand we were so attached to and updated it, being careful to keep the spirit of the original branding, while making it fit with our more minimalist and truly distraction-free aesthetic.
We will talk more about our brand and design decisions in a future blog post, so keep your eyes peeled for that in the coming weeks!
Here are some of the biggest changes you may notice:
The logo
We loved our Novlr logo, so we worked to keep as much of the original as possible, while modernising it. It still keeps the feel of the original, but is much easier to apply and use across a range of media.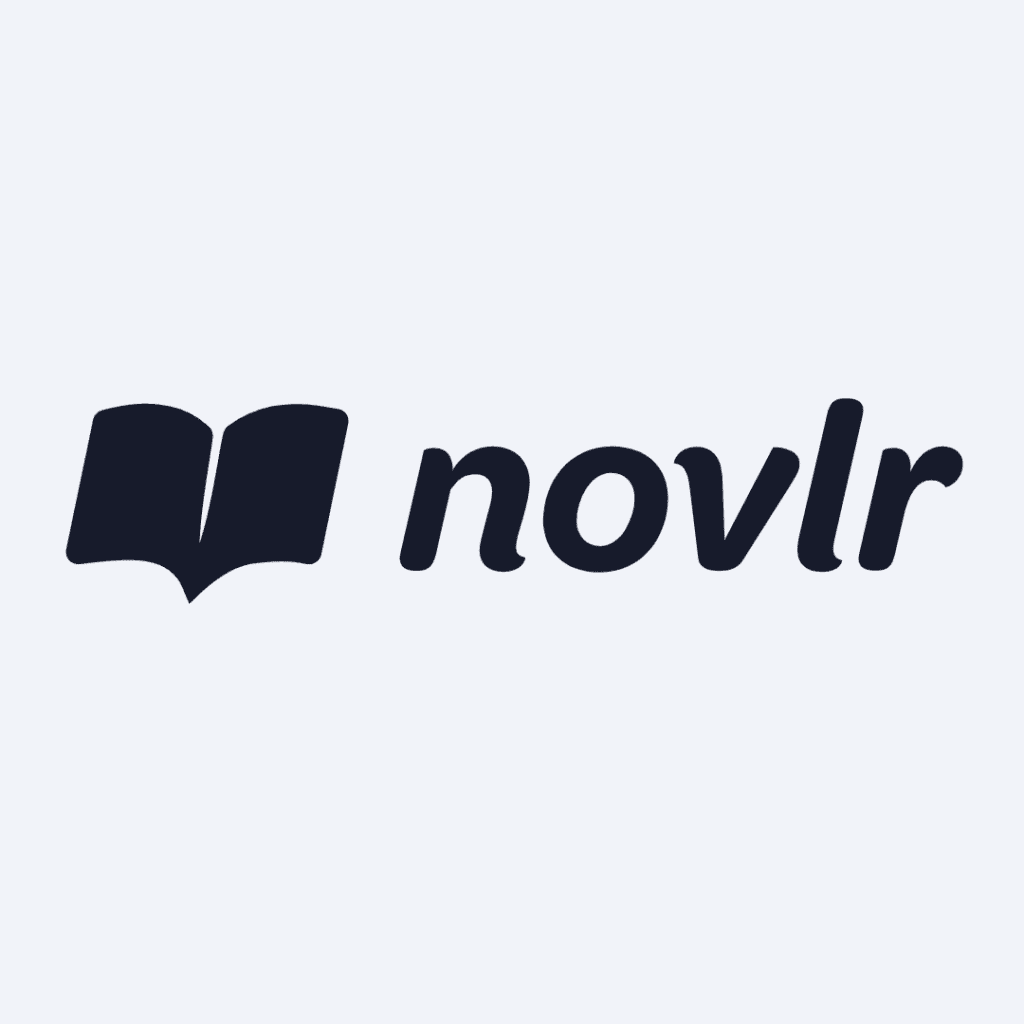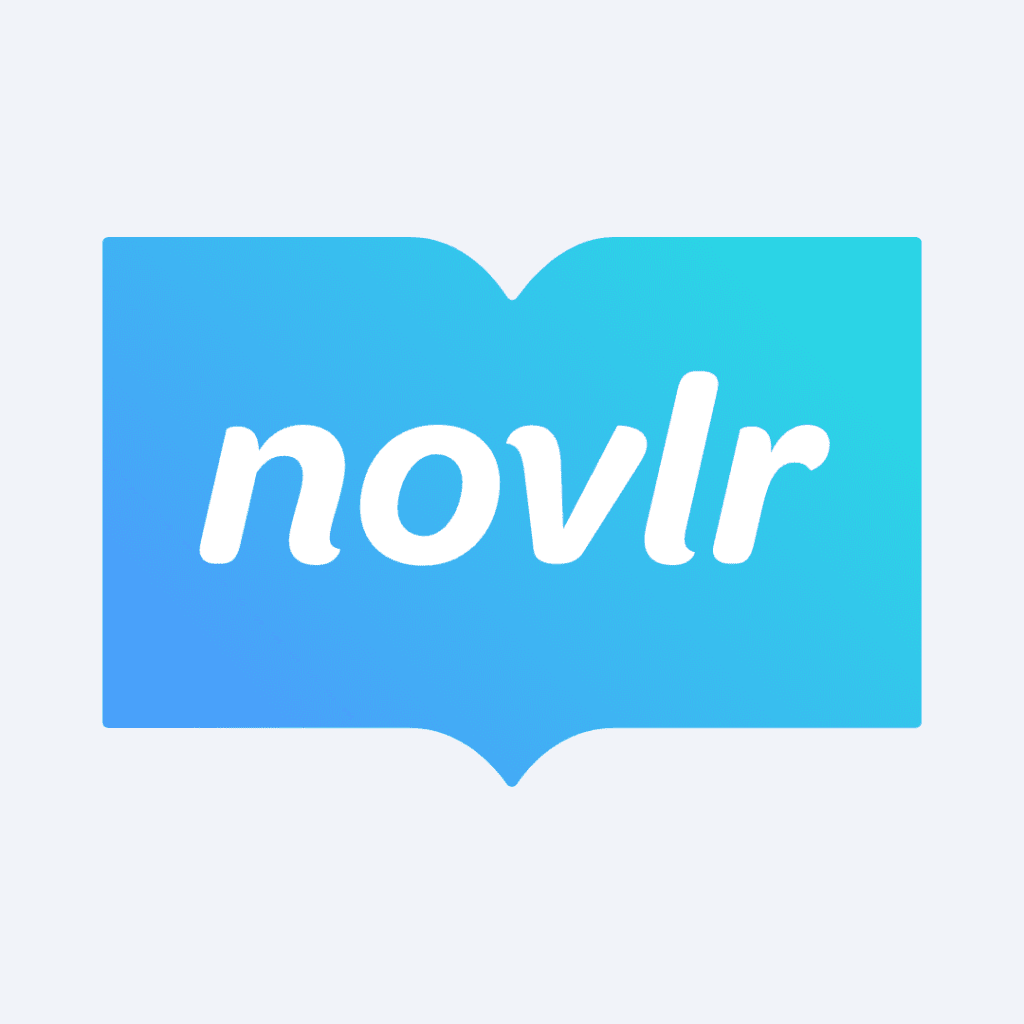 The font
Our brand fonts used to be a combination of Acumin Pro and Omnes. This worked well in our legacy app, but didn't translate well to the new app design. We didn't want to step too far away from what we loved about those fonts, so we settled on Poppins as a catch-all option that gives us the best of both styles. It maintains the playful aspect of Omnes, with the gravitas of Acumin Pro thrown in.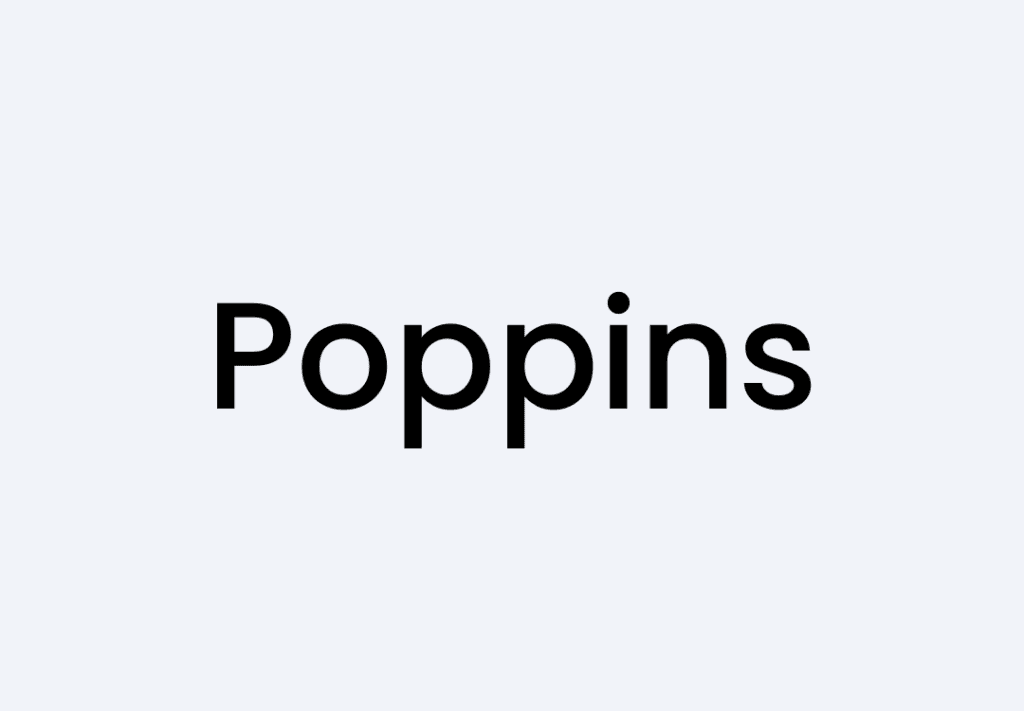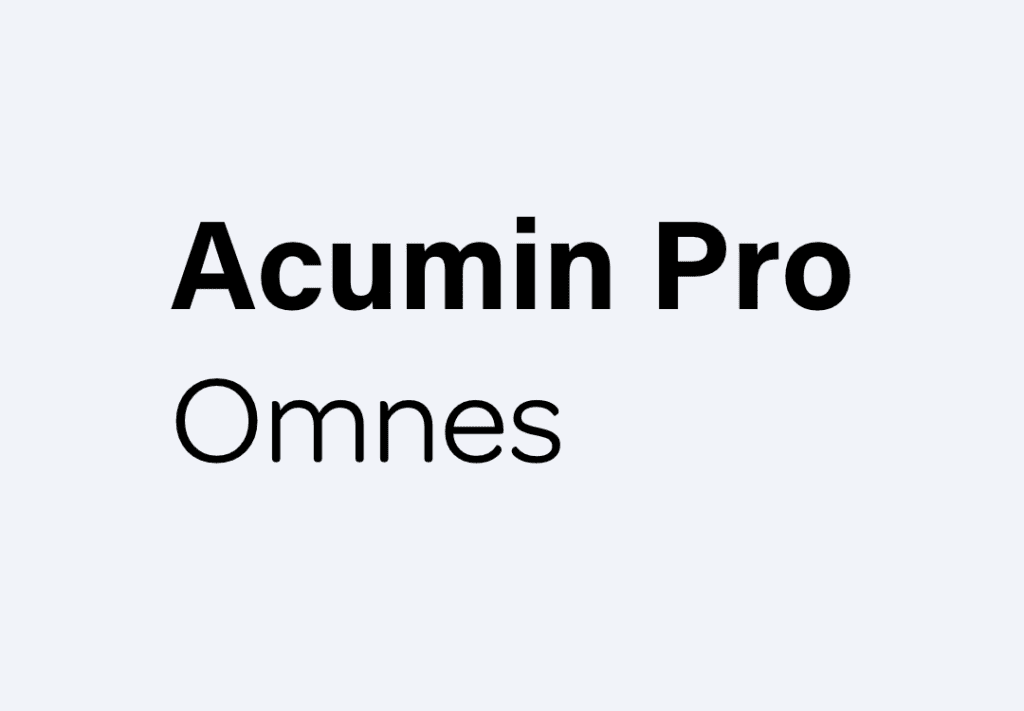 The new home page
Our home page has had a complete design overhaul. One thing we were really missing from our homepage design was our signature use of British Library illustrations that had become such a central part of our branding. It was important to us to bring that creative feel back to Novlr, so we've subtly incorporated those images into every aspect of our new design. Most notably on the homepage, but in other parts of the app as well.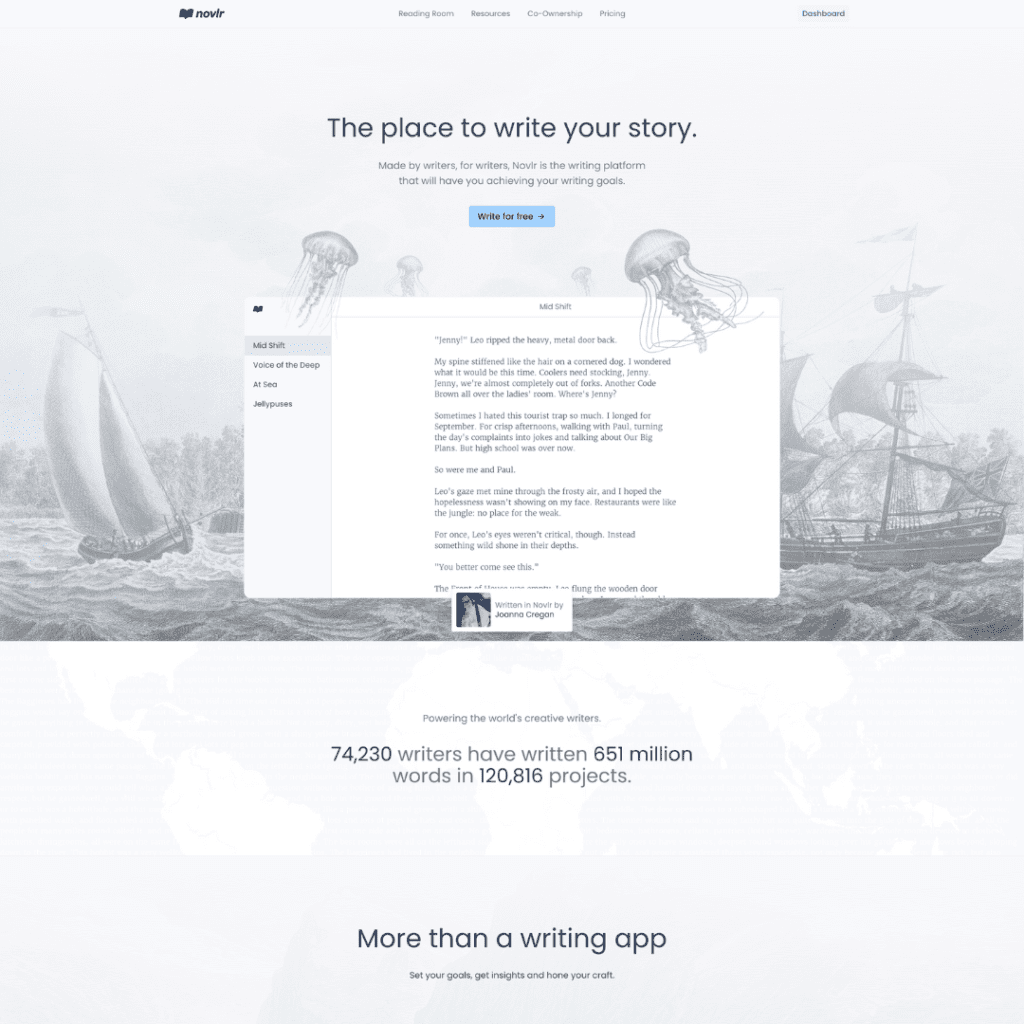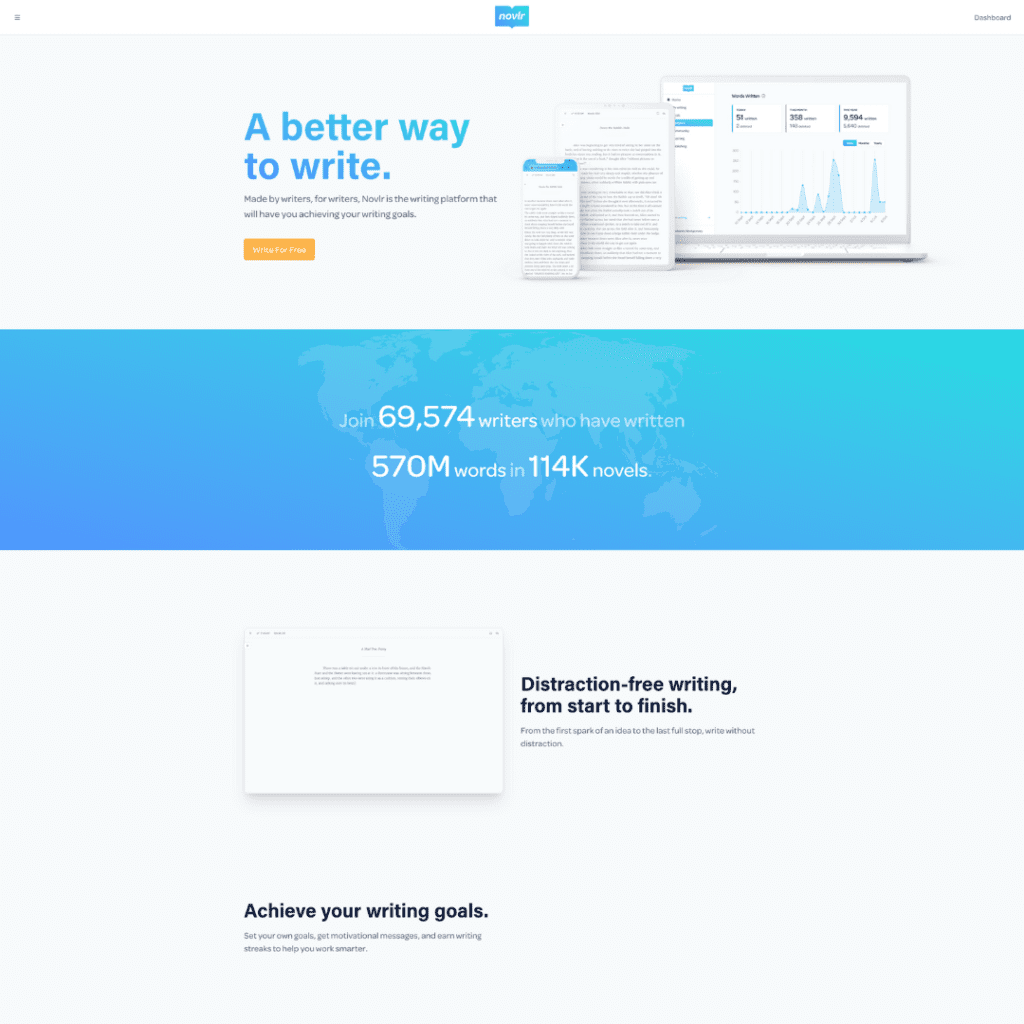 The dashboard
We've changed the dashboard, so it now feels like a more useful hub for a quick overview of your whole account. You can still visit the sub-sections individually for more detail, but the dashboard now serves as the place to access everything you might need from Novlr in a centralised place. The widget design also gives us more potential to make this page customisable in the future.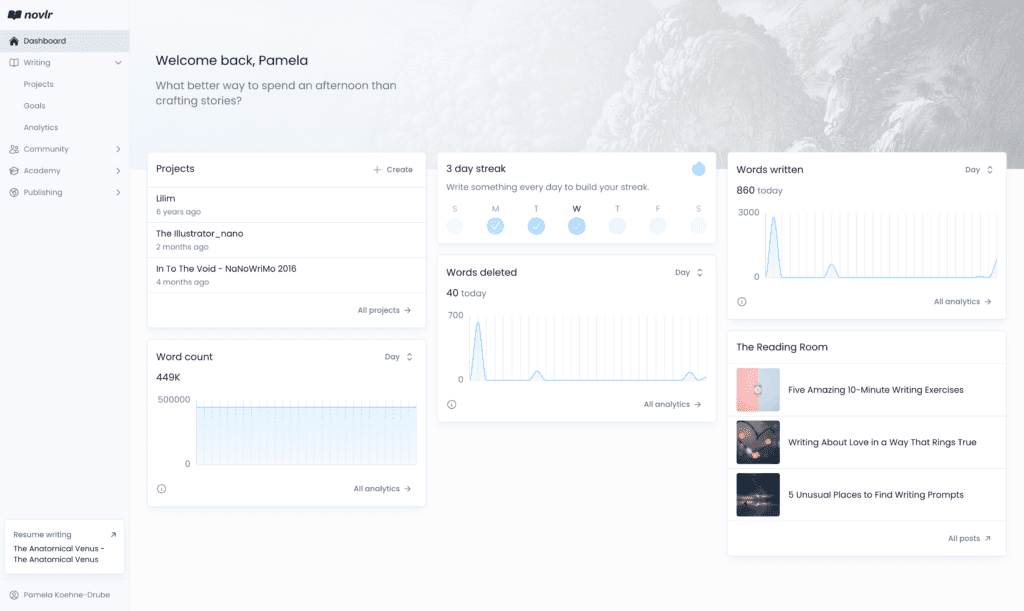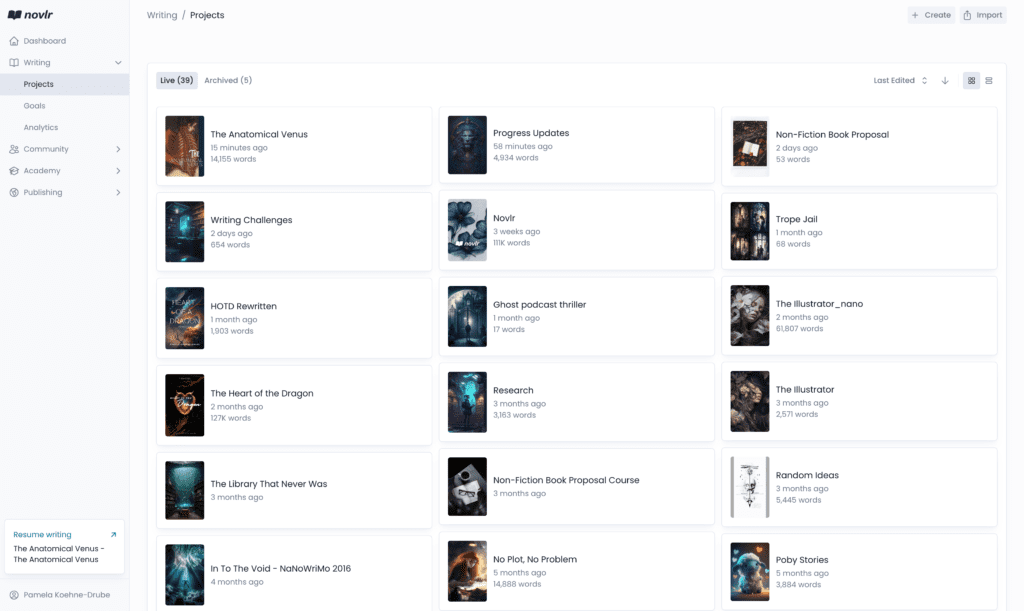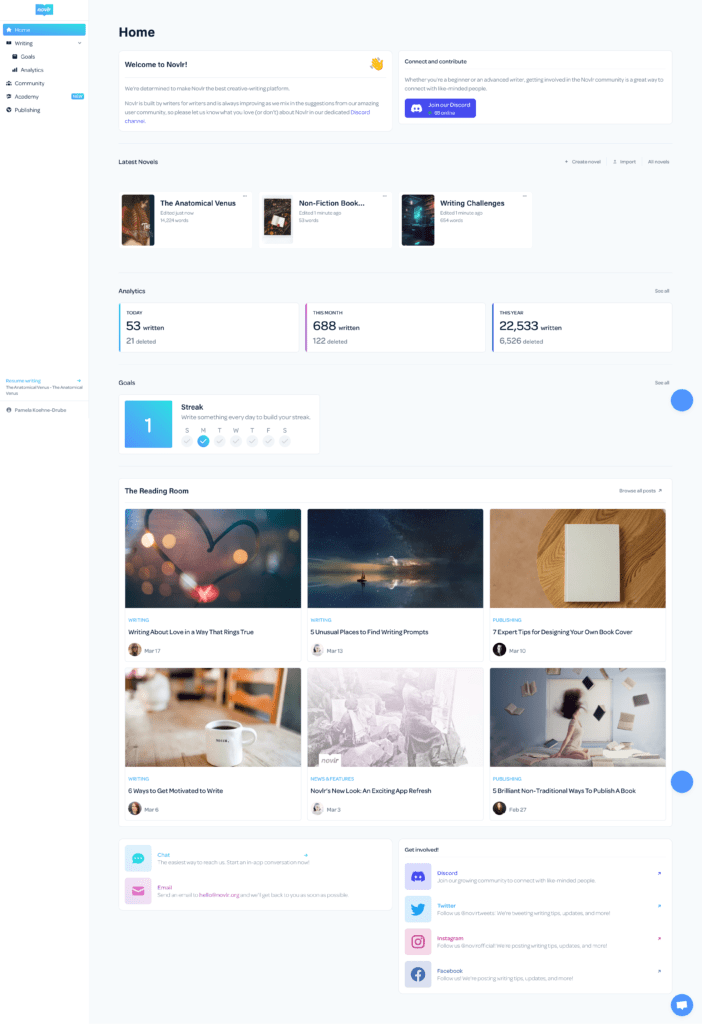 The project home page
We've simplified the project home page to give you a widget-style overview of your project. This new design gives us the scope to extend its functionality in the future, and also allow for future user customisation for what is important for you to see. The planning cards have also moved to their own section, which once again, gives us the potential to expand on this feature as the app continues to develop.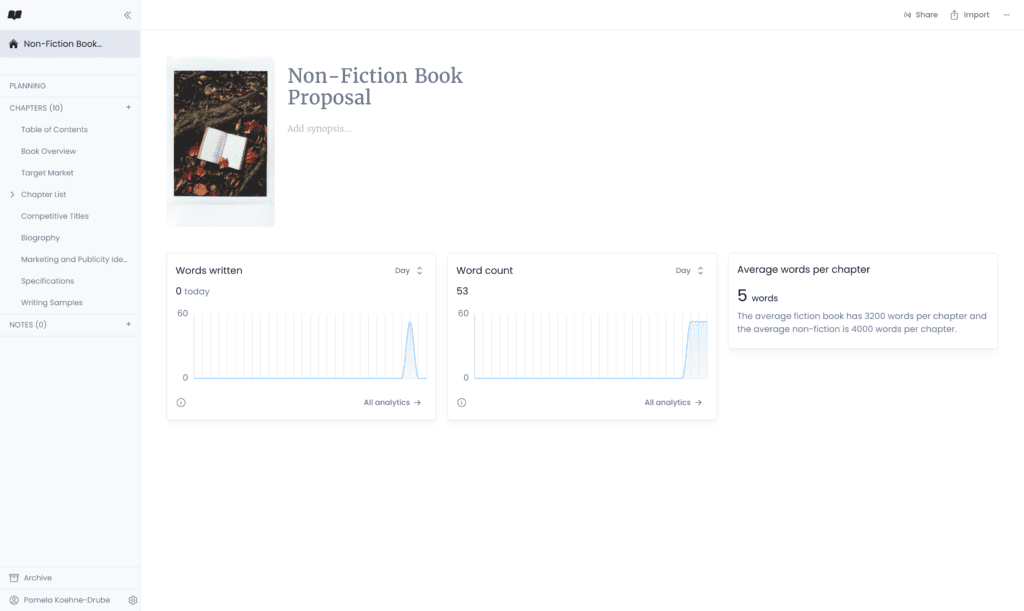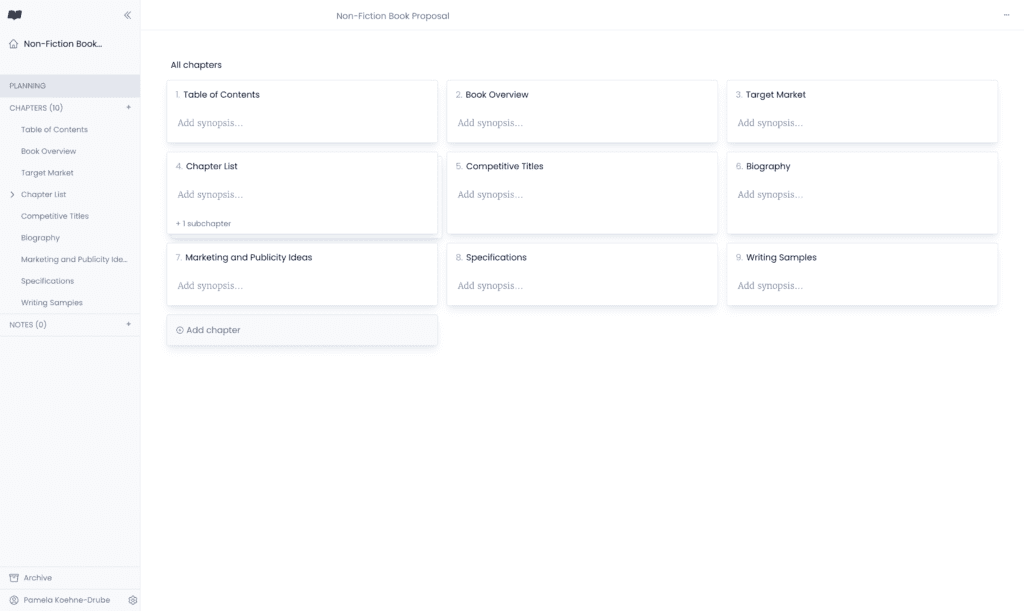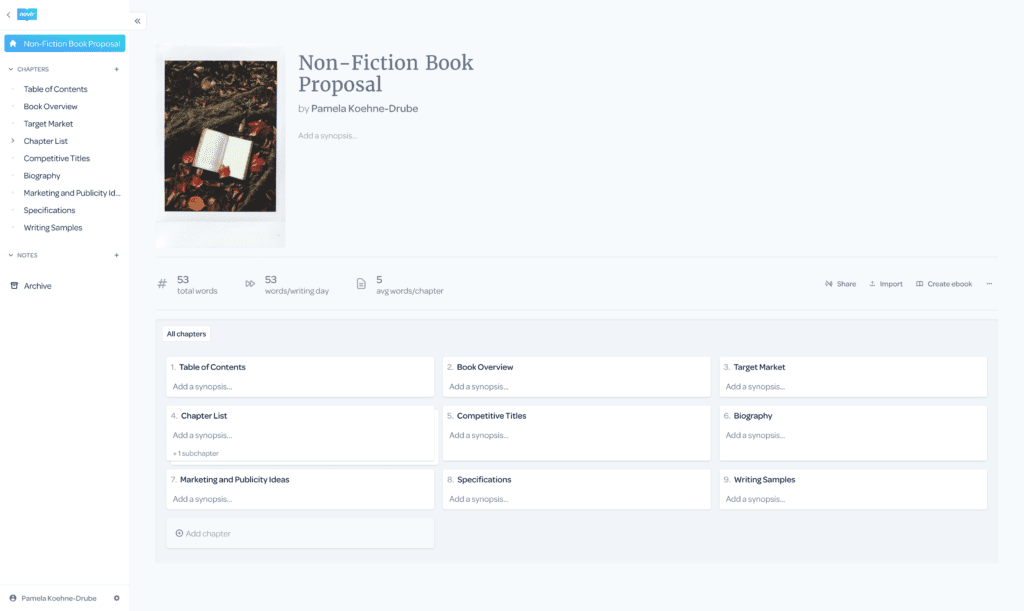 Analytics page
Instead of splitting analytics into separate pages, we have merged all analytics into a single page for easy access. The widget style gives us the scope to make this customisable in the future, and makes all information available at a glance.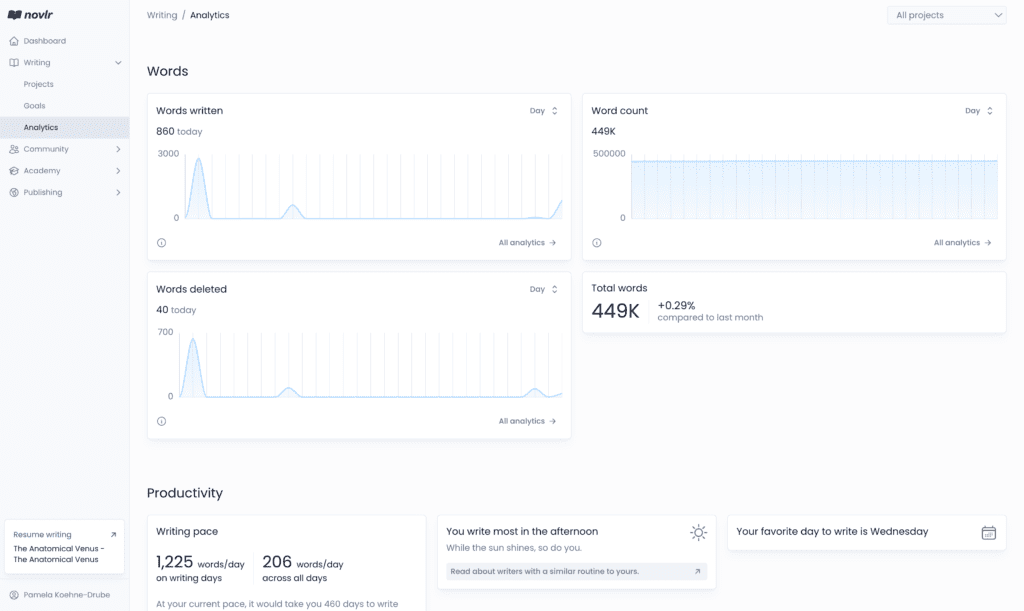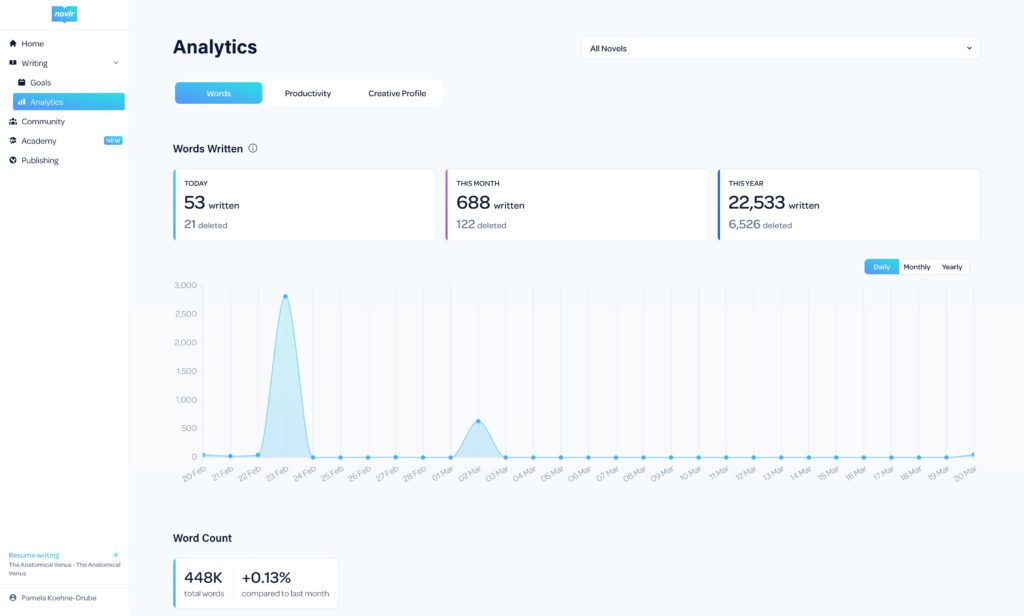 Improved dark mode
We've softened dark mode to make it easier on the eyes for longer writing sessions.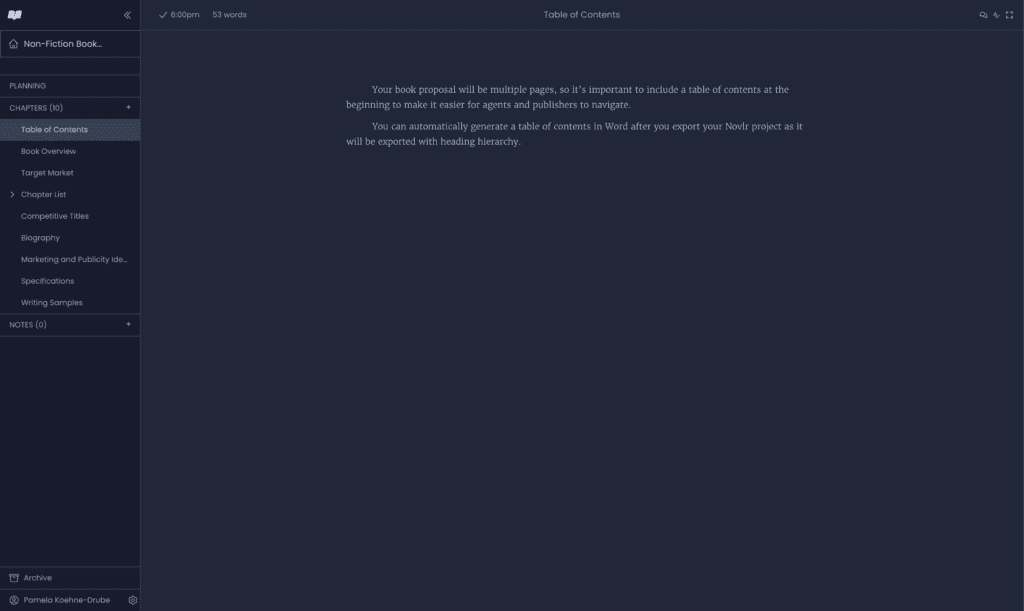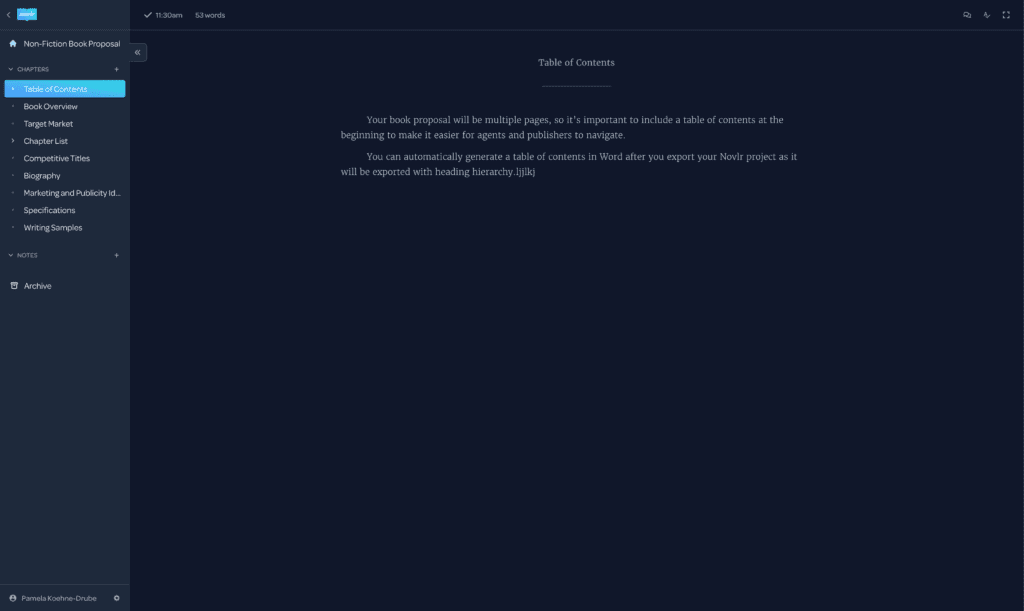 Improved free
We've made the experience for our free users even better. You can now archive and delete your projects. Free accounts are still limited to one live novel at a time, but you can archive novels and create new ones if you'd like to work on something different.
Join us for a chat
Do you love the new design? Do you have suggestions on how we can improve it? We'll be hosting another open Town-Hall style catch up in our Discord server on Monday, April 3rd at 8pm GMT. You can pop in, give us your feedback, ask questions, or just listen in. All are welcome!
Coming soon
Return of the free Tim Clare Couch to 80k Creative Writing Bootcamp
New paid courses
Project types
An additional sans serif and monospace font option