Writing
How to Use Pinterest As A Writer: An Introduction
As of 2021, Pinterest has over 450 million monthly active users. It's an often overlooked platform by authors wanting to build an online following, however, it could potentially be one of the more effective social media platforms out there. Pinterest functions more like a search engine and pins have a longer lifespan than most other social media platforms making it an invaluable tool. So how can you use Pinterest as a writer?
Kristen Kieffer is a fantasy fiction writer and the founder of Well-Storied.com where she helps writers craft sensational novels and build their best writing lives. She has almost 60,000 followers on Pinterest and almost 3 million monthly visitors to her pins.
I asked her how she used Pinterest to gain such a massive following and to engage with an interested audience on her board.
Pinterest is a search engine
Unlike other social media platforms, Pinterest is a powerful search engine. Many users search Pinterest for resources in the same way that other people search Google, meaning Pinterest offers authors a fantastic opportunity to target users looking for their next great read or creative resource.

Kristen Kieffer
You may also have noticed that sometimes, when you search for something in Google, it actually takes you to Pinterest. This is another huge benefit of having content on Pinterest over other social media platforms – a great web presence with only a fraction of the work.
How to build a following on Pinterest
Authors can create pins and boards on Pinterest. Pins are like bookmarks and boards are a curated collection of pins grouped together under a single title.
I built my Pinterest following as a creative entrepreneur by creating high-value boards and pins designed to target my ideal reader. I made themed mood boards and character boards as resources for fellow writers looking to create personal storyboards, and created writing resource boards themed around different aspects of the writing process (i.e., drafting, character creation, pre-writing).

For every blog post I wrote, I designed attractive Pinterest-optimized images that I pinned to these resource boards. I also pinned applicable images from other writing blogs to help spread the love.

Kristen Kieffer
Here are some examples of the titles Kristen gave her boards that also help optimise her posts within Pinterest's search engine:


Pinterest can also help authors with research for character names, looks, or settings through its comprehensive search algorithm and post suggestions based on what pins you're viewing.
Types of pins that do best on Pinterest
In my experience, vertical blog post graphics with eye-catching photos, bold text, and high-contrast colors perform very well on Pinterest.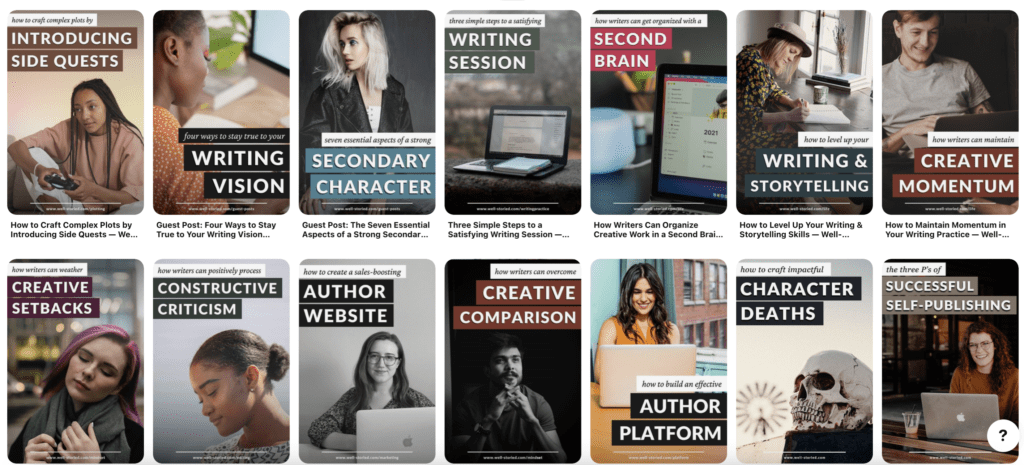 The pins that do best on my mood boards are stylised headshots and stills from movies and TV shows that fit the theme of the board.

Kristen Kieffer
If you want to create eye-catching pins, you can use Canva (an online graphic design tool that's great for beginners). Canva offers a variety of free templates for lots of different social media platforms, including Pinterest, and they are super easy to edit. Just choose a template, upload an image, type in some text, and you can pin it directly to Pinterest in one click!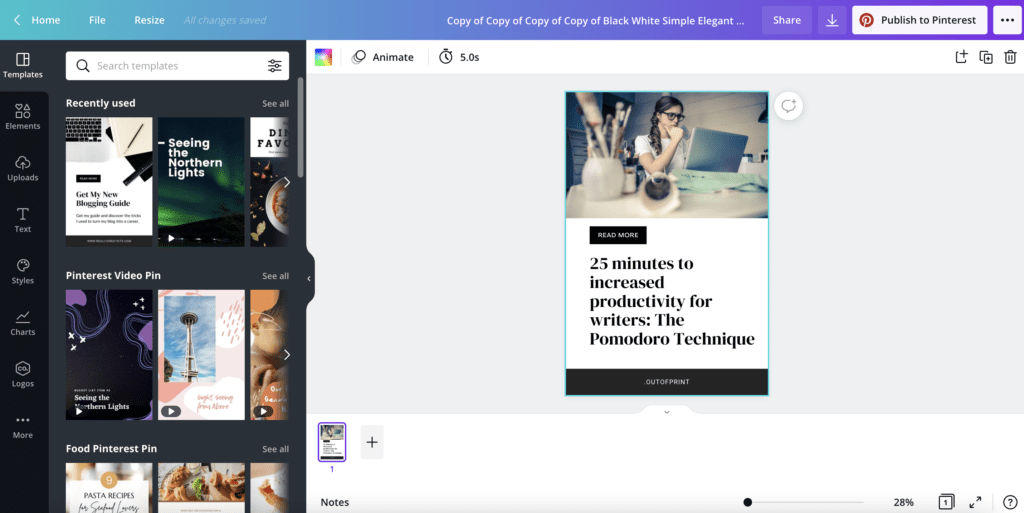 The best thing about Pinterest is that pins may have a 3-month lifespan, compared to Facebook's 5-6 hours, Instagram's 48 hours, or Twitter's 20 minutes!
Use Pinterest's idea pins
Recently, Pinterest has launched 'idea pins' and are pushing these on people's feeds. Idea pins can be several videos or images placed together – kind of like an Instagram story. You can also write notes and tag related topics to reach the right audience.
Good related topics for authors are:
Writing
Writers
Fiction writing
Writing a novel
Book writing
Book cover
Books to Read
Bookshelf
Here's an example of an idea pin I created, using a video from TikTok and combining it with my blog posts:
Best advice for authors starting out on Pinterest
If you want to succeed on Pinterest, think of your boards and pins as resources. Get very clear about the type of resource you want to create and who you'd like to help by creating that resource. Do you want to create a mood board themed around your novel that authors writing similar stories can re-pin? Do you want to create a historical fun fact board that shares graphics from the history posts you've written for your author blog? Be of service to others, and you'll grow your following in no time!

Kristen Kieffer
Pinterest really is a unique social media platform. It allows your content to easily make it into Google search results and lets you build a following on the platform directly through users viewing and sharing your pins on their own boards. Pinterest is definitely not a platform to be overlooked.