Novlr Authors
How to use TikTok as a Writer: An Introduction
#WriterTok and #BookTok have absolutely exploded on TikTok. There are many tens of thousands of TikTok creators making videos around writing and reading.
If you haven't used TikTok before, it's going to feel like landing on another planet. It's quite different to other social media platforms. It's fast-paced and confusing at first, but stick with it. The more videos you watch, the more the algorithm works out what you like and the better the content you are served becomes.
TikTok calls itself an 'entertainment platform', rather than a social media platform like Instagram that shares a similar visual space. In fact, according to TikTok, people are now spending more time watching TikTok videos than they are watching Netflix. 
TikTok, by nature, is a storytelling platform. The videos that do the best on TikTok tell a story and make the viewer engaged either through drama, comedy, or bewilderment.
The beauty of TikTok is that with very few followers content can go viral. You can have 15 followers but get 20,000 views on a video. It's like a gamble. And the possibility of going viral becomes quite addictive!
Where to start on TikTok?
Explore #BookTok
Jump into #BookTok – a specific hashtag on TikTok that book lover creators use. Search #BookTok using the discover tool in TikTok to see the most popular video content by readers from around the world. They create engaging videos reviewing their favourite books, showing off their colour-coded bookshelves or how they keep notes while reading. Posting videos about your favourite books or TBR (to be read) pile is a great way to ease yourself into the platform.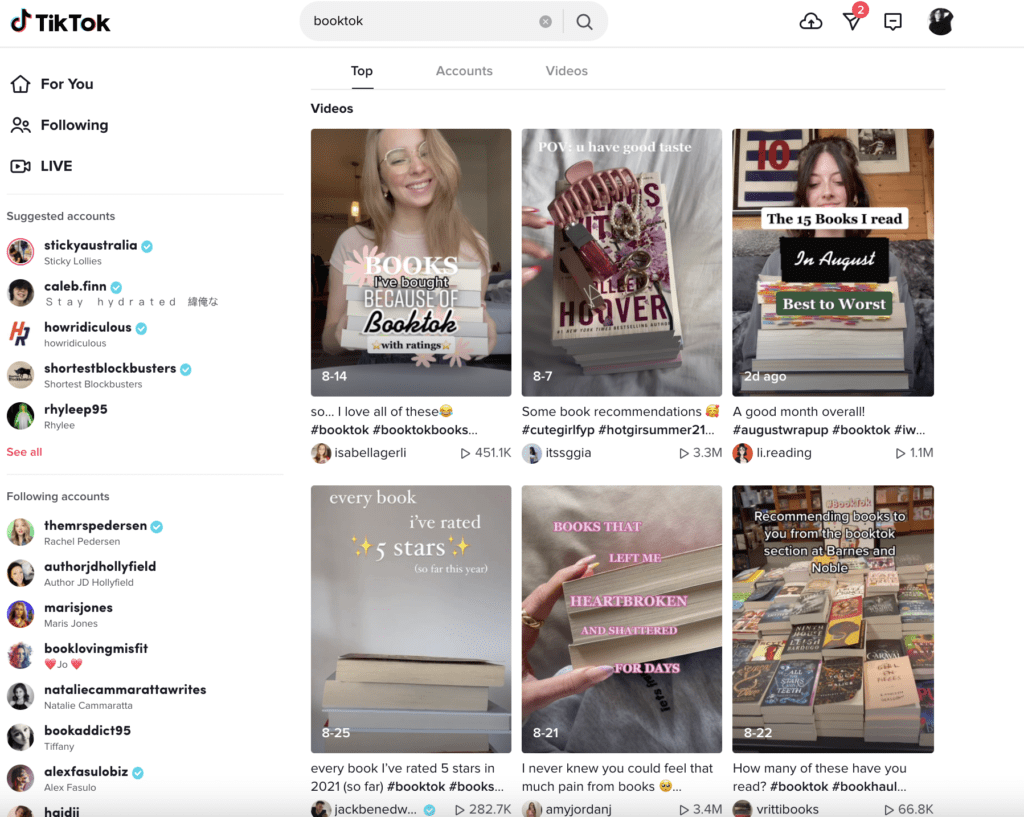 Explore #WriterTok
Discover #WriterTok by exploring the hashtag. Writers are posting videos about their excitement about getting published, their writing process, tips for other authors, as well as creating intriguing videos based on the storyline of their novel.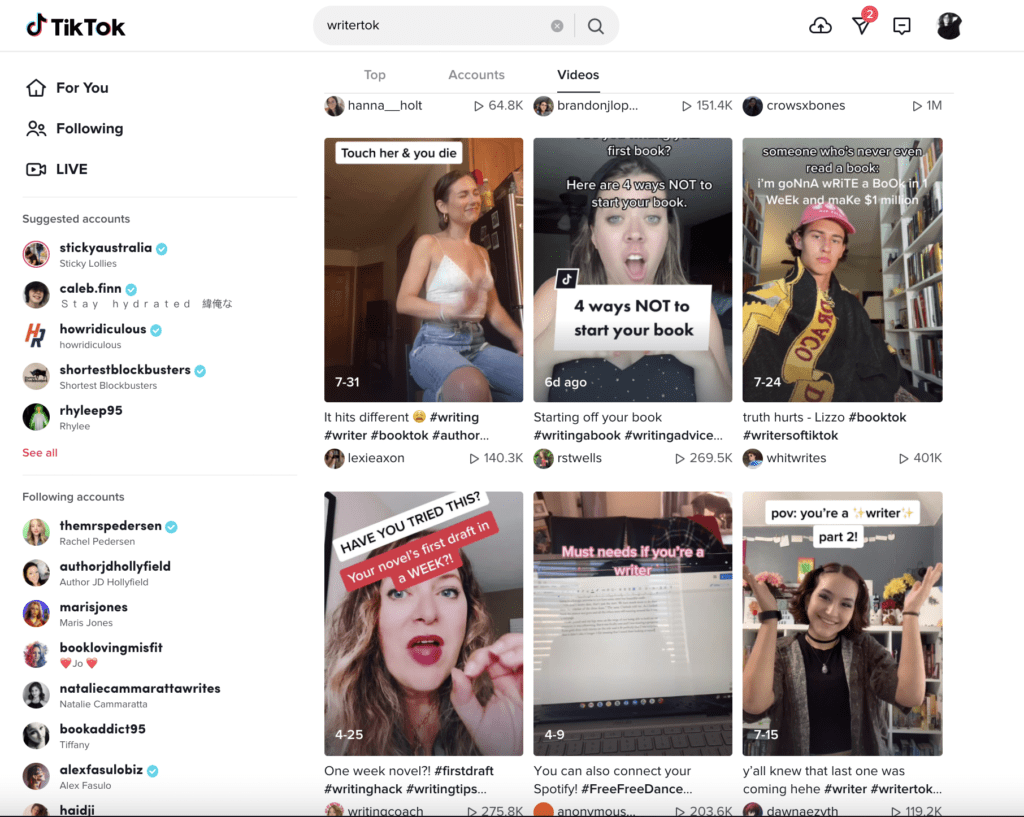 Like , comment and build a community
The best piece of advice I got when I started on TikTok was to build a community. You have to tell the algorithm where you want your content to be spread. So start liking and commenting on other writers and bookish people's content. This way you are telling TikTok these are the kind of people you want to reach!
I'm an introvert. What content should I make?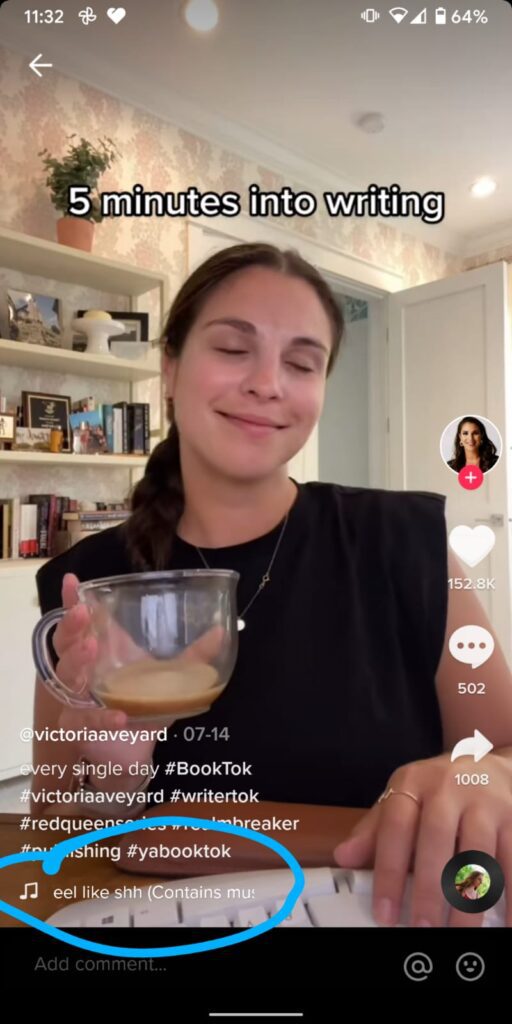 So the best part of TikTok – and what will help your content to do well – is the trending sounds. Use a trending sound and then put your own spin on it. A trending sound could be a piece of music or it could be a voiceover of someone speaking that helps you connect with an audience. I used a trending sound for a reader follow party and went from 348 to 1000 followers in 4 days! You simply click on the music icon down the bottom (see image) – hit 'use this sound' – and then create your video!
The trending sounds help to build a community and it becomes a kind of conversation. In many ways, TikTok is a derivative platform – eg. someone sees what they like, copies it and puts their own take on it. In that way, we see lots of different videos using the same sound but done differently – which becomes interesting in itself.
TikTok video basics
Create a profile and add your bio. Choose a piece of music and record a video in the TikTok app. Edit your clip and adjust the timing, add filters, text or record a voiceover. Don't forget to write a caption and add some hashtags. Good hashtags for writers are: #writertok #authortok #booktok #indieauthor #indiewriter 
When you have enough followers, TikTok will allow you to put a website link in your profile. You can either link this to your website or use a platform like Beacons.ai to create multiple links to your published books, Goodreads profile and other social media platforms.
Once you reach 1000 followers try to go live as this really boosts the reach on your videos. Also, try not to delete any videos you have published, as this can disrupt the algorithm and your views may plummet. So make sure you are happy with anything you post before you post it.
Have fun. Don't think too much about the views and follows. If you're having fun, then your viewers will too!
Here's a few great #writertok accounts to follow to start giving you inspiration:
@victoriaaveyard
@christi.steyn (poetry)
@magotwood
@writingcoach
@jesss.david
@reverseharemauthor
and @outofprint if you want to follow me 🙂
And finally, TikTok is all about emotion. Here's a good one to feel the big feels!