Novlr Authors
Author Spotlight with Dana Wilkerson
In this series, we interview published Novlr authors to learn about their work, routines, and how they use Novlr. D.A. (Dana) Wilkerson is the author of the Totally 80s Mysteries cozy mystery series. She has been a professional writer and editor for almost two decades and was the collaborative writer of two non-fiction New York Times bestsellers: The Vow: The True Events That Inspired the Movie (Kim and Krickitt Carpenter) and Balancing It All (Candace Cameron Bure). Dana is a native of Missouri, USA, and currently lives in Oklahoma. She enjoys traveling, reading, being an aunt, binge-watching crime shows, and attending Oklahoma City Thunder basketball games.
---
Can you tell us a little about yourself as a writer?
I recently published my first cozy mystery, A Totally Killer Wedding, but I have a long and winding publishing career. I've been a professional writer and editor for almost 20 years and have worked on all different types of publications.
I started writing books first as a non-fiction ghostwriter, then as a memoir co-writer (like ghostwriting, but I got cover credit), and then as a novelist. Two of my co-writing projects became New York Times bestsellers. One was The Vow: The True Events That Inspired the Movie, which was #1 for several weeks. (I, unfortunately, did not get to meet Channing Tatum.) The other was Balancing It All with Candace Cameron Bure, Full House's DJ Tanner herself!
Last fall I decided to start writing cozy mysteries, and I knew I needed a theme or hook — a cozy mystery staple. My hook needed to be something I was well acquainted with, so I chose the 1980s!
I grew up in the 80s and have fond memories of those years. I also love the music, TV shows, and lack of technology. It's been fun researching random facts like which car models were available in which years, release dates for popular songs, and when everybody and their sister started getting a perm. My "Totally 80s Mysteries" series begins in the spring of 1985 with A Totally Killer Wedding and continues into the summer in Book 2 with Most Likely to Kill (which will release this summer). I plan to write at least five books in this series, but possibly more. And I already have several ideas for the next series!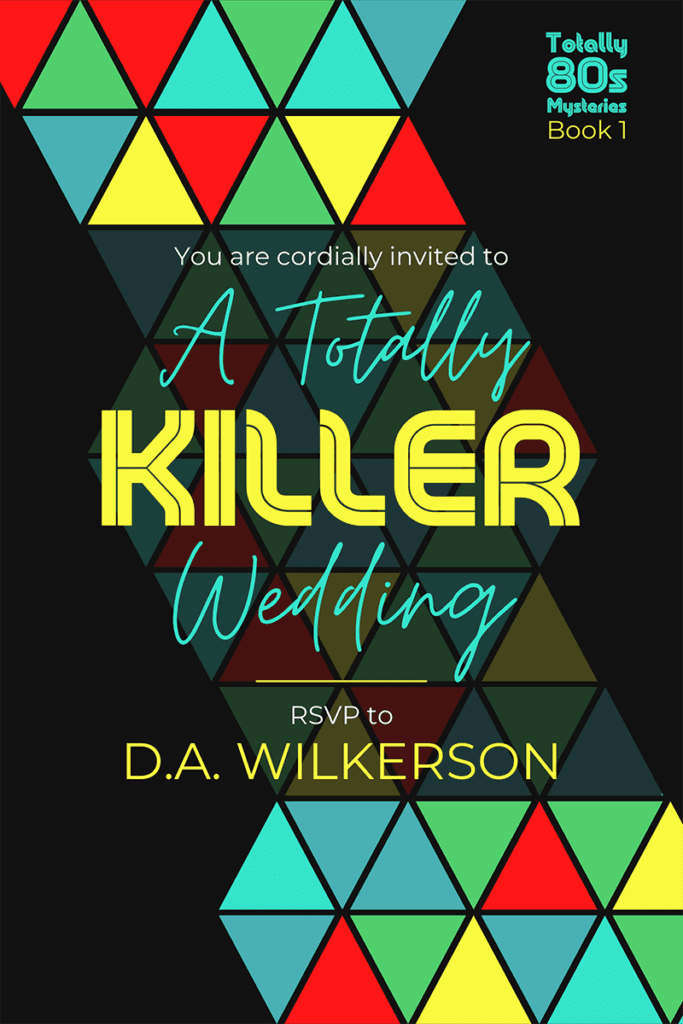 What publishing route did you choose, and why?
My ghostwriting and co-writing books were all through traditional publishing, but when it came time to write my own novels, I chose self-publishing. There are varied reasons for this, but the primary one is I get to retain all control over the content, pricing, pace, etc.
When did you first realize you wanted to be a writer?
I actually hated writing when I was a kid. I dreaded writing papers at school, though I always got good grades on them. My 9th grade English teacher suggested I send one of my short stories to a magazine for publication, but I had zero interest, so I didn't do it. It wasn't until grad school that I began to enjoy writing and started considering it as a career. But I still don't write just for the fun of it. I don't keep a journal or write short stories on a whim.
What is your writing routine?
I don't really have one. My schedule is very random. But it's hard for me to write unless I know I have at least a couple of uninterrupted hours available.
Do you have any interesting writing quirks?
I don't plan my cozy mysteries out ahead of time. I know where the death will occur, but that's it.
In my first book, I had no idea who was going to die until I was halfway through the first chapter (and the death occurs at the end of the first chapter). I didn't know how the person died until about 1/3 of the way in, and I didn't know who did it until about halfway through. That pattern has repeated in the second mystery I'm currently writing. It's almost like I'm solving the mystery as I write it.
Dana's Best Ladies of the 80's Playlist
Dana's Totally 80's Mysteries Playlist
How long have you used Novlr, and how does it fit into your writing routine?
I started using Novlr in November, when I began writing my first cozy mystery. I wanted to use something more novel-friendly than Word for my pre-beta-read drafts, but I didn't need or want all the bells and whistles of some of the other software options out there.
A friend told me about Novlr, and it worked well for my purposes, so it stuck. I currently use Word for my later drafts, as that works well for the beta reading and editing process.
What is your favourite Novlr feature?
The Dashboard is my favorite. I like to see my progress!
What was one of the most surprising things you learned in the process of writing?
When writing fiction, I don't have control over my characters' actions, speech, or thoughts. I've discovered they're going to do what they're going to do, and I just need to roll with it.
What do you think makes a good story?
This is such a subjective question, but I think a good story needs to be entertaining, and every scene needs to keep moving the story along.
Where can people find your books?
The paperback version of A Totally Killer Wedding is available on Amazon.com in 10 countries. The ebook is available on all major platforms and a few of the more obscure ones, as well as on Books2Read. You can learn more about me at my website, DanaWilkerson.com, or follow me on Facebook, Instagram, and Goodreads.
---
If you're a Novlr writer who has published a book, we'd love to hear from you. If you'd like to tell us about your work and share your writing journey with us, please email [email protected].