Writing
Why Writers Should Be Using Tumblr: A Complete Guide
Tumblr is a blogging platform that can be used to engage with readers, share content, and connect with other writers. With Tumblr, users can post photographs, videos, quotes, links, music, and text posts.
One of the best ways to build a following on Tumblr is to create content that people will want to reblog. Your content will have greater reach if other users share it with their followers. It is similar to Twitter and the retweet button.
How writers can use Tumblr
Writers often use Tumblr to display their writing in a unique way. For example, they might create a "Tumblr novel" where each chapter is a separate post on the blog. Or they might choose to do a series of micro-fiction stories that are only one or two sentences long.
Shelby Leigh is a poet, mental health advocate, and author marketing strategist who has been writing on the internet for 6+ years, amassing a following of more than 300,000 readers. Her third poetry book is coming in Fall 2022 through Central Avenue Publishing.
I asked her how she has been using Tumblr and her advice for other authors who want to use the platform.
"There are so many writers on Tumblr, but that doesn't mean it's an oversaturated platform! Tumblr is the first platform I started sharing my writing on, and I quickly built an audience to more than 100k in a year. It's fairly simple to get visibility on Tumblr because, similar to Twitter, posts can be reshared really easily to different audiences. Relevant tags are also pretty effective in getting more views and engagement on your posts."
What type of posts by writers perform best on Tumblr
"I've found that two types of posts perform best: simple, text-only quote posts and high-quality photos of quotes from books or journals. The text posts are easiest to do because you just need to type your poem! However, I have had photos of pages of my poetry books perform very well, too."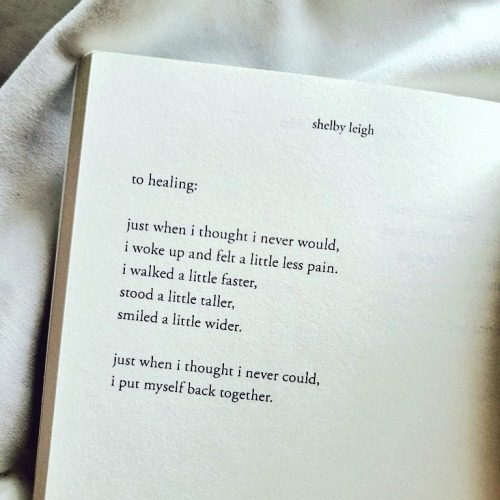 Best tips for writers using Tumblr
Shelby Leigh has been writing on Tumblr for years.
"Like any social media platform, I recommend consistency and quality. Stick with a posting schedule that you can adhere to, whether that's twice a week or every day. Experiment with different post types to see what works best for you and your audience. Use relevant hashtags to get more eyes on your work. Finally, engage with others. You should never follow to unfollow, or like people's posts just to get likes back. However, you should find other accounts you truly enjoy and engage with them regularly. That is the best way to build a community!"
Check out writers on Tumblr to see how authors are presenting their work on the platform. Use the search bar to search for terms such as 'writing', 'creative writing' or 'poetry' to get some ideas on how writers present their work on this incredible multi-media, multi-layered platform.