News & Features
Progress Update #1
It's been a busy couple of months here at Novlr. With the release of our brand new app and NaNoWriMo hot on its heels, we've had a lot to do. But we've made amazing progress!
One of the things we worked on for the new release was a completely new Analytics infrastructure, allowing writers to see daily, monthly, and yearly progress over time. We're now approaching 571 million words written in Novlr, with 140k words written daily!
For the first week of November, Novlr saw a historic increase in usage – with 600 writers a day making up to 31 requests per second to our API. This isn't much compared to the scale of Facebook or Netflix, but for our small team, this was definitely a shift into a new gear.
All this exciting development came with some growing pains. For the first week or so of November, we tackled a series of bugs reported by writers using our analytics features. By Tuesday, November 8th, we had them under control, but it was a wild ride for a few days. These bugs were exposed by the increased usage of Novlr and created a perfect storm, resulting in a week of analytics being a little chaotic.
We want to be clear that this didn't affect any words written. The only error was in how the words were counted, not in how they were saved and stored.
We've now stabilised analytics and made Novlr faster than ever. But we've also made lots of other feature improvements and additions over the last few months:
✨ New features ✨
NaNoWriMo integration
We added a brand new integration to sync your novlr projects directly with NaNoWriMo. It updates your word count with every save and tracks your goal in Novlr, showing you the percentage achieved and your target daily word count.

NaNoWriMo integration can be set up from the Goals page. This involves connecting to your NaNoWriMo account, ensuring you have a project for the event on your NaNoWriMo dashboard, setting a starting word count (if necessary), and choosing a tracked project.
Word counts are synced with NaNoWriMo on every save, so every time you type, your words will sync reactively with NaNo.

✨ Feature improvements ✨
Formatting on touch devices
Devices with touch screens had the formatting bar obscured by the touch functions native to their OS. Touchscreen and mobile device users will now see their formatting options at the top of the screen.
Improved commenting
Inline comments now show a gentle highlight by default whenever they are applied. This function can be turned on and off by going to the "Writing" section in the settings modal.

If you select a comment in text, or select a comment in the sidebar, your screen will scroll to the selected comment.
While comments in the sidebar are ordered by created date at the moment (with the most recent at the top), we are working to allow for text ordering for comments in a future update.
For screens larger than mobile, the comment sidebar now opens when an inline comment is clicked. The comment text no longer defaults to fully selected, so it is easier to edit the chapter text when a comment is applied.
For mobile devices, comments will show a highlight (unless inline comments are hidden) without the sidebar open and the sidebar will remain closed on click to allow you to edit your chapter text. To open the comment sidebar for a specific comment, press the highlighted comment, then click the comment icon in the formatting menu to open the sidebar manually.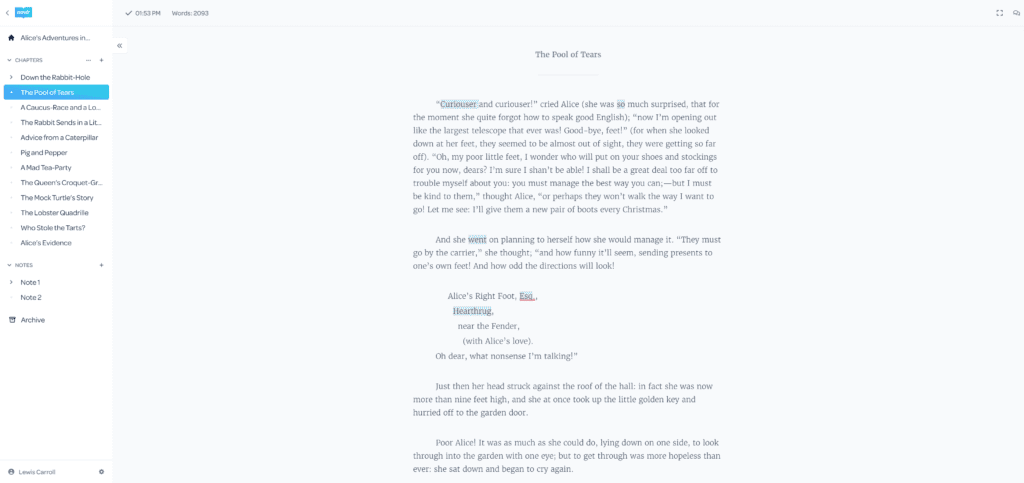 Share feature
We removed sharing from the chapter section of the writing sidebar to unclutter the chapter menus. You will now find the share button next to "Export" on your project home page.

If a novel is shared, you will see a share icon next to the project title. If a chapter is shared, you will see a share icon in the header on the writing screen of the relevant chapter.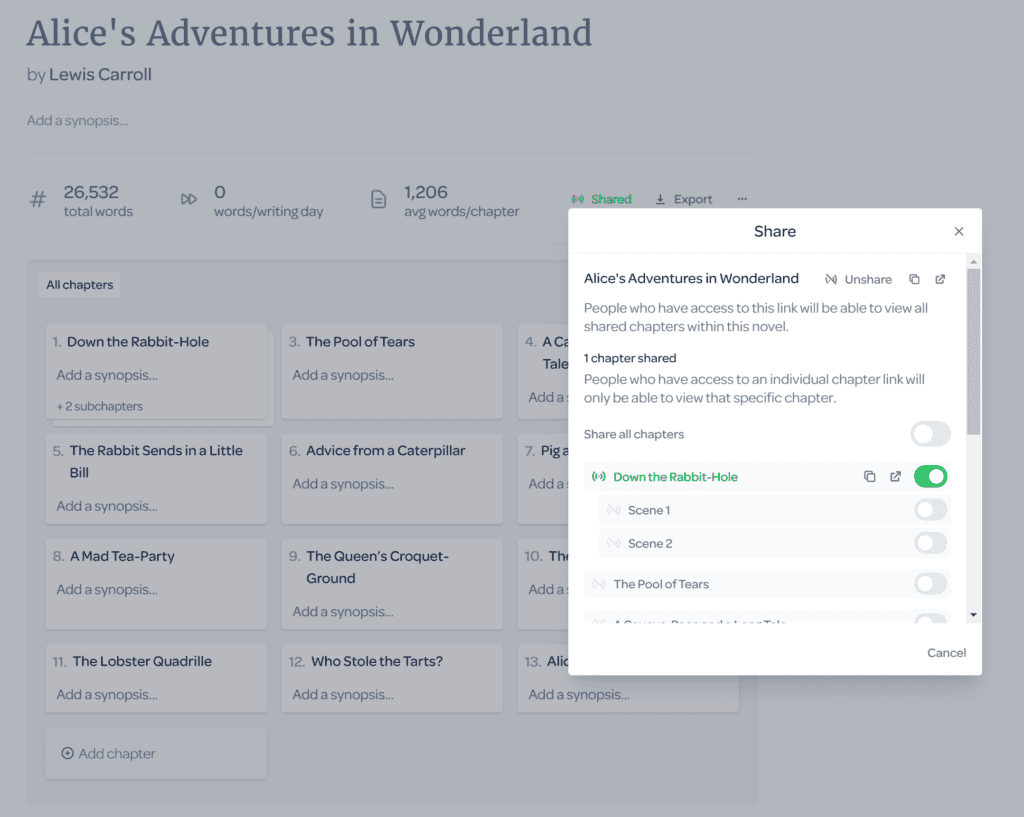 ✨ Bug fixing ✨
Highlighting text
Some users reported that highlighting text via click and drag from the bottom to the top, prevented scrolling when it reached the formatting bar that sat above the text. All highlighting should now allow the screen to scroll.
Logo flashing
On some devices, the Novlr logo in the sidebar menu flashed and shifted when switching pages. This no longer happens, and the logo will remain static.
Correct analytics
Over NaNoWriMo, the increased number of users we saw visiting the site, mixed with the NaNoWriMo integration, highlighted issues with how we captured word count data to update our analytics. These issues have now been corrected, and analytics will display the correct word counts.
We have force-recalculated everyone's analytics to ensure all users now have accurate statistics.
Offline commits counting twice
In some instances, writers who were working offline would have their word count updates counted twice, meaning their analytics were showing higher numbers than expected. We have improved the way we sync offline commits to fix this issue.
NaNoWriMo integration error
When we first set up the integration with NaNoWriMo, the API calls counted commits multiple times resulting in inflated word counts. We have streamlined this so all future syncs will show the correct word count, and will reactively correct any incorrect number previously sent to NaNo's servers.
Deleting curly quotes
We have fixed an issue where, when trying to delete a curly quotation mark, instead of deleting, it stripped the formatting first to make it a straight quote. Curly quotes will now delete after one backspace instead of requiring two.
Correct timezones
Some users reported goals and analytics updating for incorrect time zones. Goals and analytics should now default to your system timezone for correct reporting.
✨ UI improvements ✨
Archive button
Because archiving is only available to Novlr Pro users, the option was not showing for users on Novlr's standard tier. To clarify this function, the archive button is now visible to all users.

Users on Novlr's standard tier will see the archive option locked with the upgrade symbol that will launch an upgrade popup. We have also added text to the feature list on our pricing page to make it clear that it is a Pro feature.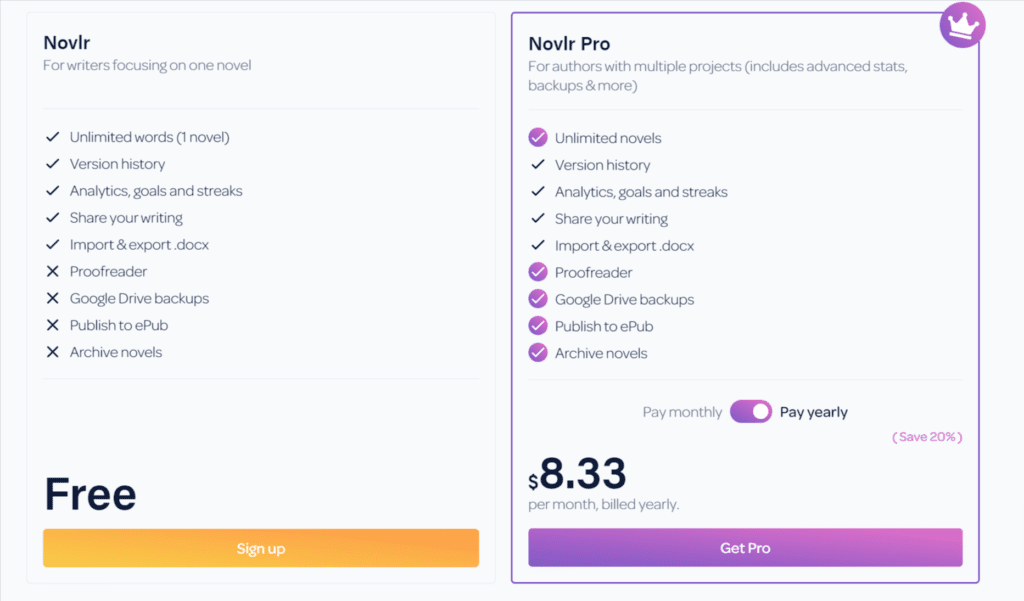 Loading icon
When a chapter is loading, you will now see a loading symbol showing that the app is still working in the background.
Previously, it showed a blank page while the page was loading, leading some users to believe their work was gone. This gives a bit more visual clarity to when something is still in the process of loading.
Sidebar animation
We have improved the design of the right sidebar, so it now opens with a slide animation.

✨ Coming soon ✨
Our next development steps are to add the final features remaining from the legacy app into the new app before we sunset the original Novlr at the end of the year. Therefore, our next additions will include:
publish to ebook
split chapter
focus mode
proofreader
If you have any questions at all, don't hesitate to reach out, and as always, we're happy to hear any feedback you have. You can email us directly through [email protected], get in touch via the chat bubble, or join our community on Discord!