News & Features
Progress Update #6
How is it already halfway through 2023? We've achieved so much this year, and we're just getting started. 15,272 novels have been created in Novlr this year so far, with over 99,649 chapters. That's over 74,424,457 words!
With all our writers smashing those goals, it's only fair that we share what we've been up to. Here's what's new since our last progress update:
New Features
More projects for free users: Improved our Novlr Standard plan to offer up to five projects, completely free!
New subscription tier: Introduced a new Novlr Plus plan which allows unlimited project creation for only $5 a month, or $48 a year.
More font choices: Added a font option selector to the writing settings, which lets you choose a Sans Serif and Monospace font in addition to our default Serif font.
More project types: Added project types to the project creation flow. You can now choose between a Novel, Novella, Short Story, Poetry, Non-Fiction, or General project type.
New writing courses: Fully integrated courses are now live! The Tim Clare Couch to 80k Creative Writing Bootcamp is completely free for all users. We also have two paid courses live, Write to Play: Rediscover the Joy of Writing by Carl Burkitt and Write a Non-Fiction Book Proposal by Lydia Yadi. Novlr Pro subscribers get 10% off all course purchases.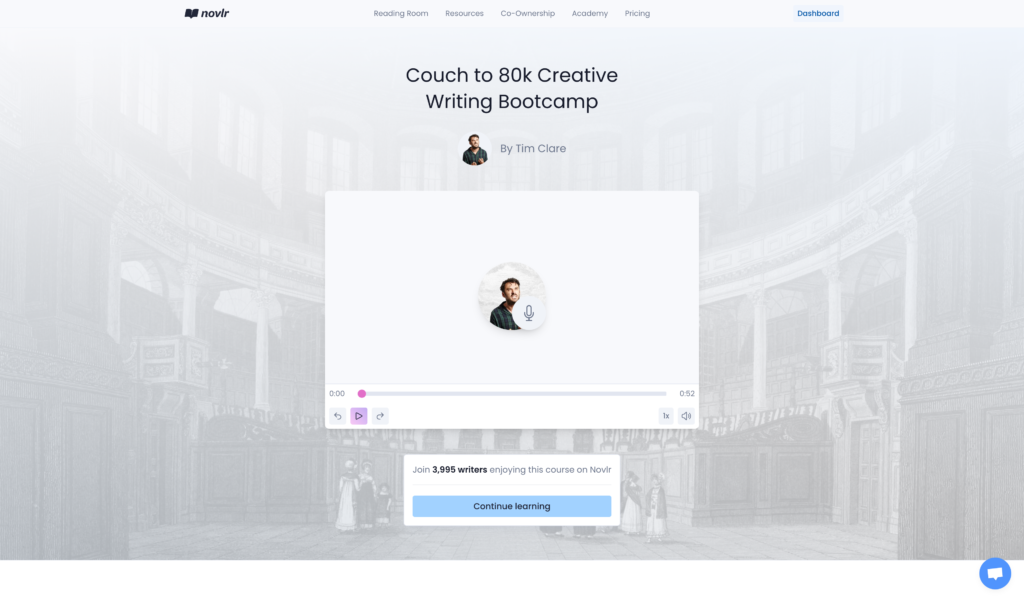 Feature Improvements
Better offline notifications: You'll now see less prominent offline notifications. We replaced offline popups with a less obtrusive offline notification in the top writing bar that works with focus mode
Estimated page counts: Introduced a project comparison card to the project view in Analytics. You can now compare your project's estimated page count compared with famous literary works like Charles Dickens' Great Expectations, Jane Austen's Pride and Prejudice, and the average Dr Seuss book.
Better backups: Improved Google Drive and Dropbox backups for Novlr Pro users. The sync now creates individual, adaptively updated documents per chapter rather than creating multiple PDFs on each sync.
More accurate analytics: Removed pasted words from the words written totals to give writers a more accurate overview of your writing analytics. Pasted words will still count toward word count totals, but only words written in Novlr will count toward words written totals, and, therefore, writing pace statistics.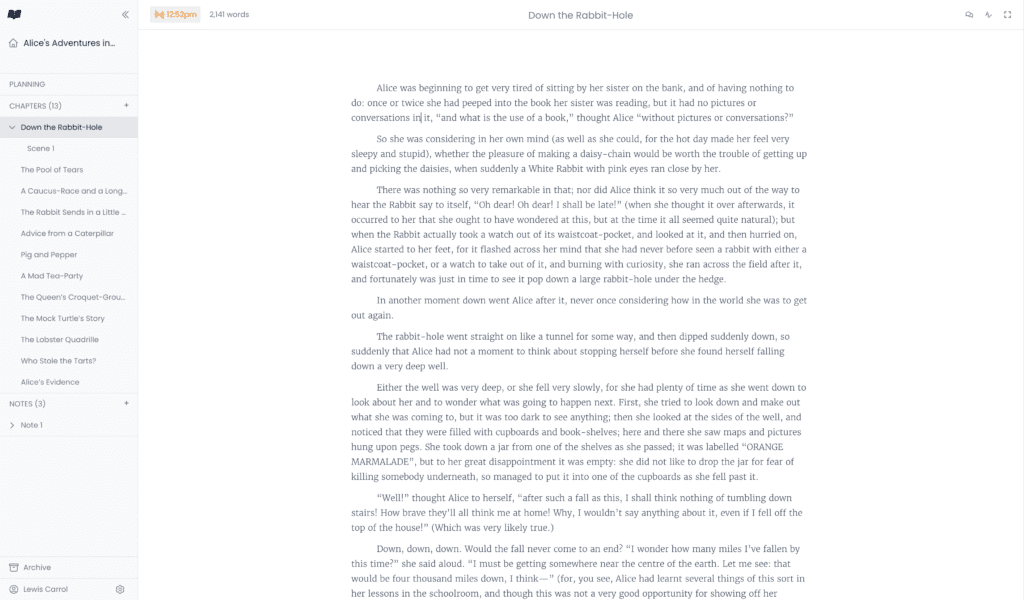 Bug Fixing
Improved database optimisation to stop offline prompts and toasts from incorrectly showing when lots of users saved projects at the same time.
Fixed an import bug where long titles overlapped the import container on selection.
Improved menu flow for users on mobile when accessing their settings.
Shared links now preserve the indent formatting set by the writer.
Improved offline versioning makes it less likely that a live version will replace the offline version as "newer," saving writers from having to restore offline writing from their version history manually.
Fixed an error where writing a chapter synopsis was overriding the project synopsis.
Fixed an error where notes were counting toward the average chapter length. Average length will now only be calculated based on chapters or docs in your project, and exclude notes from these totals.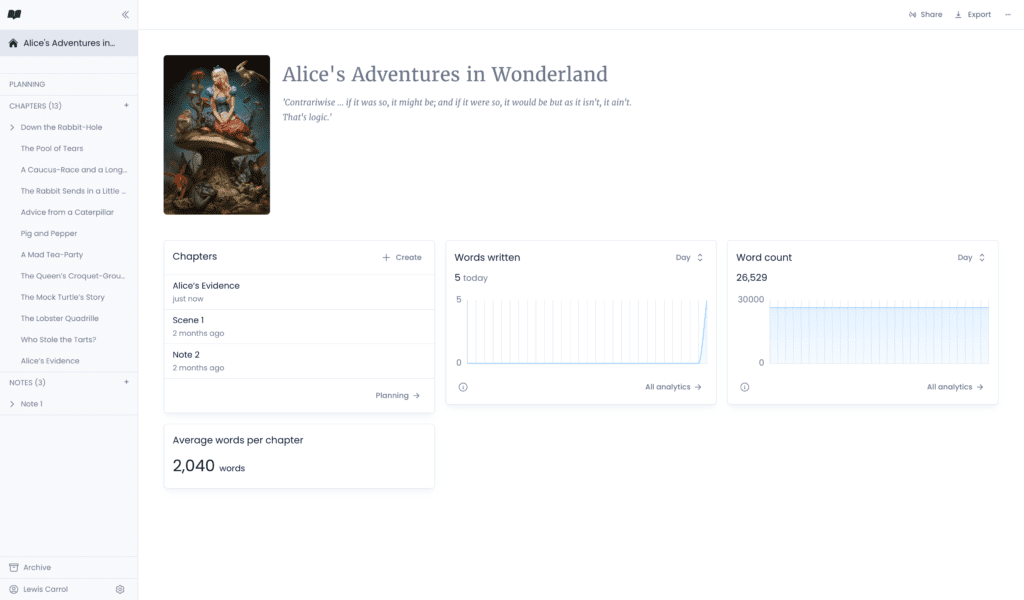 UI Improvements
Added an account deletion button that automates account deletion requests.
Improved the design of the dashboards to include illustrated banners.
Added active goals to the main dashboard.
Made Novlr's favicon adaptable. It will show as lighter if your device or browser is in dark mode, and darker if in light mode.
The formatting bar on touchscreen-enabled devices remains sticky and centred at the top of the page.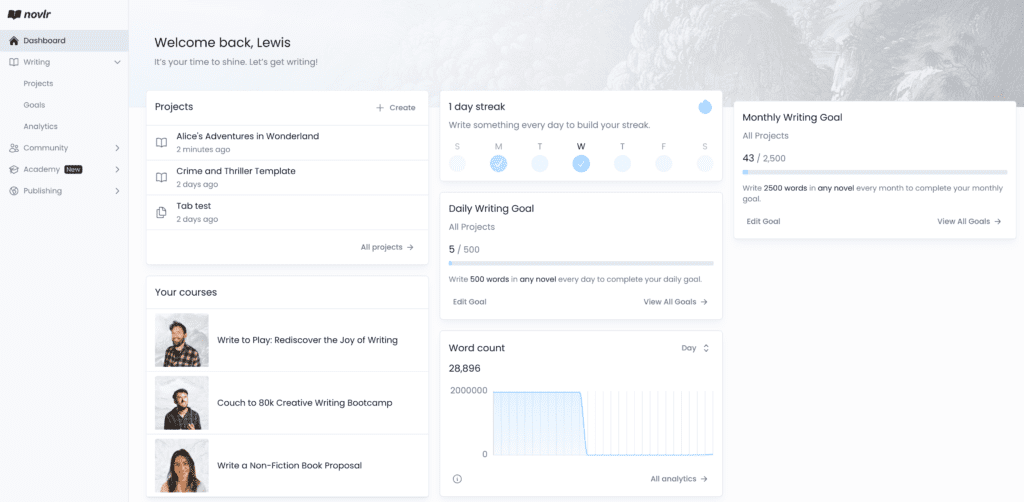 Coming Soon
We're getting ready to launch co-ownership, making Novlr the first creative writing platform to be co-owned with the writers who use it. We'll be reaching out to our subscribed users first.